SmartFem reviews the 2015 Infiniti QX60 and learns what it means to have luxury in large quantities. We wanted to find out just what makes the new Infiniti a best seller and after a weekend driving the QX60 around Phoenix, Scottsdale, Cave Creek and Superstition Springs we were hooked.
Playing mom's taxi service to a bunch of boisterous kids in the back while hauling all their  sports equipment is demanding work. There comes a time when you realize the sleek sporty convertible just isn't practical anymore.  The good news is the soccer mom mobile now has style. The Infiniti QX60 is the perfect fashion accessory for the smart family on the go.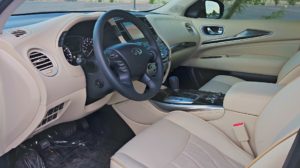 We loved the high-end luxurious interior and amenities and of course the spacious third row.  A woman's busy life means lots of errands, stops and even the occasional visit to Rolf's Salon in Scottsdale.
Equipped with Nissan's veteran 3.5 liter 265 horsepower engine, performance is impressive for a vehicle of this size. The fuel economy makes it even more impressive. Infiniti's rated 21/27 MPG for city/highway driving is right in line with our own results and actually better than our own smaller 2012 Murano with the same engine. Fuel economy and interior space are where the Infiniti QX60 outshines the competition in the luxury crossover/SUV market.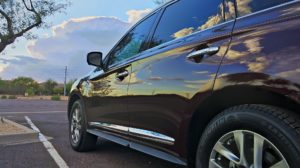 We have come to really appreciate a car with high tech features.  Standard features we tested such as the rear view camera, intelligent keyless entry, sun/moon roof, power adjustable heated leather seats, tri-zone automatic climate control, Bluetooth phone connectivity and USB port are what we've come to expect in high end vehicles. Some of the optional features we tested include 8 inch touch screen navigation with 3D buildings, real time traffic and weather, blind spot monitoring, collision warning, lane departure warning, adaptive cruise control and Around View monitor, which provides a 360 view around the vehicle to help with parking.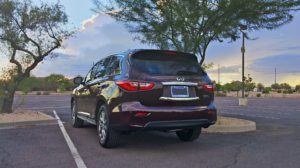 Around View is hard to describe but it's like having a bird's eye view of your car from about twenty feet above. The collision detection senses motion and obstacles with an audible and color coded alert on the screen.
The QX60's intelligent collision intervention even applies the brakes automatically to avoid hitting an object when backing up…a must have feature for the busy mom who forgot to clear all the toys out of the driveway before backing out of the garage!
SmartFem would like to thank Coulter Infiniti of Mesa Arizona for providing us with this handsomely appointed "Midnight Garnet" QX60 for this review.

Coulter Infiniti is a SmartFem recommended dealer and will answer all your questions about Infiniti.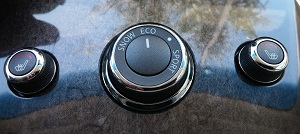 The 2015 Infiniti QX60 features a driving mode selector switch on the center console for Standard, Sport, Economy, and Snow modes. The snow mode is for improved traction in slippery conditions and the sport mode generally enhances the responsiveness of the engine and transmission although we don't think most people will want to use this setting as it can reduce fuel economy.
We couldn't detect any discernible difference between normal and eco mode, both of which provided the best combination of power and economy. The eco mode provides tactile (gas pedal resistance) and visual feedback to help the driver operate the QX60 more efficiently. It's fun to monitor fuel economy and the green "eco" light as it teaches you to improve your own driving technique and save gas. We left the selector in eco mode most of the time.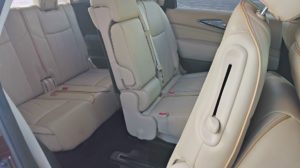 There is a lot of competition in the luxury crossover/SUV market but if you want comfortable roominess without sacrificing fuel economy or standard luxury features the 2015 Infiniti QX60 should be high on your list. If you're a soccer mom and need safety, versatility and luxury the QX60 will probably be at the top of your list.