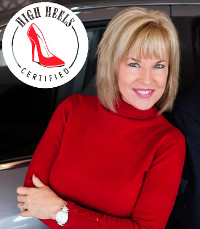 Did you know that the Lexus RX 350 crossover is one of the best-selling Lexus models in the United States? Americans purchased more than 100,000 Lexus RX 350s last year with most of those purchased by women. The Lexus RX 350 is in my opinion one of the most reasonably priced yet one of the most luxurious crossovers on the market. With only slight changes each new model year, it never loses its appeal, versatility and obviously its sales performance.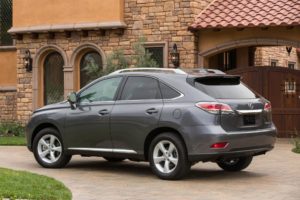 I personally like the new spindle grille, but some loyal Lexus owners are on the fence about the change. I feel Lexus needed just a little something to give its new 2015 RX 350 models a youthful new look, like a shot of Botox or a face lift. In my opinion, the spindle is sleeker and gives the front of the Lexus vehicles an aggressive, yet sexy appearance, as do the newly designed 20-inch aluminum wheels with larger tires.
The new RX 350's rear look has been sharpened, and conveys a very solid look. The backend is emphasized by efficient LED L-shaped taillights that wrap around the sides of the vehicle creating a wider, more imposing presence when illuminated. When lit, a brilliant glow spans laterally from the body to the back door—a Lexus first. Other changes that I noticed inside are the 7-inch touchscreen display and reversing camera that are now standard on all the RX 350 models.
With spring in the air, flowers blooming (except in my yard) and the anticipation of visitors coming to my house during Spring Break, I needed a practical vehicle to do chores. I needed to go to the nursery for some flowers, get the dog to the vet, grocery shop for the 15 people coming for several days and hit the dollar store for décor and 99-cent candy. Add on to that picking up two business associates with their luggage at the airport and transporting my dad and his wheelchair to the doctor. Let's not forget picking up a grandchild at preschool. Yes, I did it all with the Lexus RX 350! With multiple passengers at once…picture my 98 year old dad, the dog, and my grandson together in the back seat. That's when I turned up the amazing Lexus 12 speaker premium sound system (also standard) as loud and safely as possible!
FUN FACT ABOUT LEXUS

After years of attending engineer and designer meetings for new Lexus models, I wanted to share the following facts to illustrate just how serious Lexus is about delivering luxury and perfection to its customers.

The Lexus craftsmen responsible for stitching the leather on some Lexus model's instrument panel must first pass a simple test. Given a blank piece of paper, the applicants must construct an origami cat's head. This may not sound that difficult for a seasoned artist, but there is more… Lexus makes each worker fold the piece using one hand, whichever one happens to be their non-dominant. As if that weren't difficult enough, they have to do it in less than 90 seconds. That kind of manual dexterity is tricky to master.

According to my sources, it can take years to become a Takumi (artisan), but the level of control is important for work typically relegated to mechanized hands.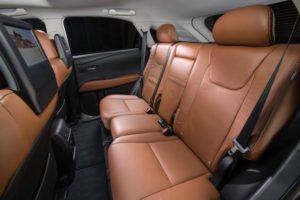 The interior of the 2015 RX 350 remains luxurious and thoughtful. The leather on the steering wheels of all Lexus models are finely crafted pieces of art. The center control panel is ergonomically located making it easy to operate and the center console with its hidden floor storage even has a place to put my purse… thank you Lexus! One of the common complaints on car design I hear from women all the time is, "Where do we put our purses?" It seems Lexus designers are listening to women.
The stereo and climate control system had knobs and buttons for easier operation, which was a nice touch. Speaking of touch, the Remote Touch interface can be used for the optional navigation system and infotainment functions. The Remote Touch device is perfectly placed where my hand lands naturally and works somewhat like a computer mouse.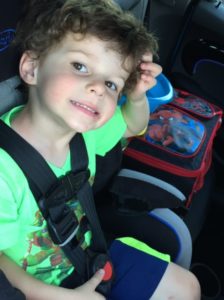 The 40/20/40-split rear seat backs fold flat, doubling cargo room from 40 cubic feet to 80 cubic feet. The power liftgate is standard. I would like to see a kick-activated hands-free tailgate option. You can imagine how helpful that would have been with wheelchair and dogs and kids and groceries. Maybe next year.
The crash test ratings are impressive, and as previously mentioned the 2015 RX 350 is equipped with standard reversing camera and safety connects service, with an SOS Emergency Assistance Button and Automatic Collision Notification.  If the RX in involved in an accident and the airbags deploy, the latter feature helps dispatch emergency services personnel to the exact location of the collision. This is a great service as it will get the good-looking muscular fireman to me quicker.
More Facts About the RX350

• Max seating capacity 5 • Basic warranty 48 months/50,000miles • Powertrain warranty 72 months/70,000miles • Roadside assistance coverage 48 months/ unlimited distance. • Rear cargo power liftgate • Power door mirrors • Heated door mirrors • 4 wheel disc brakes • ABS brakes • Brake assist • Dual front impact airbags • Dual front side impact airbags • Overhead airbag • Knee airbag • Rear side impact airbag • Security system • Electronic stability • Traction control • Anti-whiplash front head restraints • Four wheel independent suspension • Wheel size 18″
If you are thinking about buying your first Lexus, I suggest you test drive the 2015 RX 350 first and let me know what you think. The Lexus 2015 RX 350 starts at $40,970.  My test vehicle was $44,650.
Lexus claims about 25 mpg highway fuel efficiency which is approximately what I got. My test car had the 270 horsepower, 3.5 liter V-6 engine which is found in most RX models along with a 6-speed automatic transmission. This was more than enough power for me to get all those chores done and still have time to take a nap before the "spring breakers" arrived.
For additional information and to find out about a special lease offer in April visit sslexus.com or call (480) 568-6843.
For more reviews go to highheelscertified.com and here on SmartFem.com