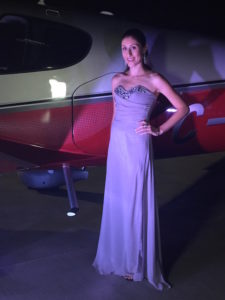 The Camp Soaring Eagle Gala was my first red carpet and on-air night with SmartFem Entertainment. As you can imagine, I was excited to not only work the event, but to experience the preparation for an evening of glamour.
"How did you prep?"
The night before the event I made sure to use my Aztec clay face mask, which I mix with a tablespoon of apple cider vinegar. The day of I used my Freeman charcoal and black sugar face mask, which is great for exfoliation, and ensuring my complexion is clean and ready for makeup.
"What about hair and makeup?"
I started with a clean, moisturized face. I then used a damp Beauty Blender to apply my foundation, which I mixed on the back of my hand. I used two, my Clinique foundation which is fair, and my DeVita tinted moisturizer in medium. These two mixed together gave the shade I needed for the camera. I then applied my under-eye concealer in the shape of an upside triangle. I used the Beauty Blender to really work this into my skin. I then set it with Ben Nye translucent powder, and used a damp triangle sponge to "bake" my face.
To do this you apply generous amounts of the translucent powder in a triangle shape, leave it for five minutes, then use a powder brush to lightly dust the powder away. This technique bounces the light off your face, keeping you looking bright eyed with no under-eye circles.
Next was eyeshadow, liner, mascara and blush/bronzer. I also colored in my eyebrows and used a gel to keep them in place.
For hair I simply curled and sprayed each strand with hairspray, then combed through with my fingers. I used a volumizing powder at my roots, and pulled half my hair up, securing with bobby pins.
"Who are you wearing?"
I knew I had to find a formal gown to wear for the evening. Knowing I would be on camera with lights, I opted for something that did not have too much bling, as I did not want to glow in the footage. I choose a Lipsy London strapless gown, with gorgeous wrapping.
Next was the shoes, bag and shawl. I found my black suede heels at Marshalls by Anne Michelle. My bag is vintage, which I found in an antique store, and love bringing it out whenever I can. I also already owned my shawl, which is a gray color with faux fur trim. This complemented the grayish-purple color of the dress, and came in handy when it got cold.
My jewelry was also all my own. I had purchased chandelier earrings and a multi-tiered cocktail ring with Swarovski crystals for
formal evenings. I choose to go sans necklace because the dress did have some crystal application, and I did not want it to be a distraction from the beautiful design on the dress.
"What's in your bag?"
For the evening I made sure to not leave home without some essentials. A beautiful compact mirror I found in Dubai helped me with my re-application of lipstick. I had a few Bandaids in case the new shoes proved to be damaging to my feet. I also made sure to bring my loose powder brush. This was a fantastic buy on Amazon! The handle is a tube, which unscrews from the bottom, and I can put whatever loose powder I want in it. The pump allows me to bring the powder to the brush for easy application and a shine-free face for the camera. Kleenex, my L'Oreal lipstick in Doutzen Nude, and Aquaphor were also tucked away for the night.