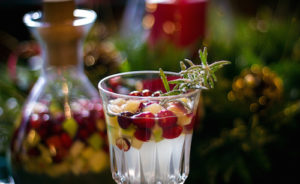 Halloween is around the corner and Fall is in the air. With all the celebrations and festive gatherings to be had here are four sangria recipes that will have guests coming back for more!
You'll need:
2 pears, sliced

2 apples, sliced

1 lemon cut into wedges

pomegranate seeds

4 cinnamon sticks

6 to 8 star anise

1/2 cup apple whisky

1/4 cup brandy

1 1/2 cups sparkling apple cider or Prosecco

2 cups apple cider
In a large pitcher add the sliced fruit, pomegranate seeds, cinnamon sticks and star anise. Pour the brandy and whiskey over the fruit and add the sparkling apple cider or Prosecco. Finish off with the apple cider and stir.
You'll need:
2 pomegranate seeds

1/2 cup sugar

1 pear, sliced

1 apple, sliced

1 bottle red wine

1/4 cup Triple Sec

1/4 cup pomegranate liquor
In a small saucepan mix together 1/2 cup of water with the sugar and 1/2 cup of pomegranate seeds. Bring to a boil and reduce the heat to low. Simmer for five minutes and remove from heat. Let cool completely. Strain the pomegranate seeds. Place the sliced fruit and pomegranate seeds into a pitcher. Pour the wine and Triple Sec, pomegranate liquor and cooled pomegranate syrup into the pitcher. Chill and refrigerate for 24 hours before serving.
You'll need:
1 bottle of red wine

14 oz. cranberry juice

14 oz. Monin blackberry syrup

6 oz. Tuaca Italian liqueur

12 oz. Sprite

ice

orange slices

lemon slices

blackberries
Mix all liquid ingredients together and add the blackberries. Refrigerate for a few hours. Add 2 ox. of Sprite to each glass right before serving. Serve with ice and garnish each glass with a slice of lemon, orange and blackberry.
Winter Sangria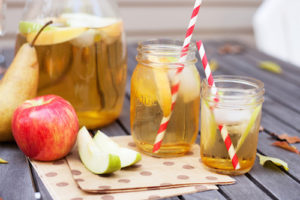 You'll need:
1 bottle white wine

2 bottles hard cider

2 red apples, sliced

2 clementines

1 cup cranberries
Pour the white wine and hard cider in a pitcher. Put the sliced apples, peeled clementines and cranberries into the pitcher and allow to sit for an hour. Serve garnished with fruit.