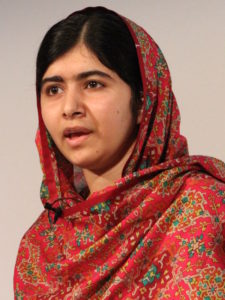 "He Named Me Malala" is Davis Guggenheim's newest documentary about Nobel Peace Prize winner Malala Yousafzai, and her family.
The documentary takes viewers into the Yousafzai home, providing a glimpse of the normal life Malala and her family live when not speaking at UN conferences. The documentary is offset with stunning illustrations that help take the viewer back in time while Malala tells her brave story.
Born in Swat Valley, Pakistan, her father, Ziauddin Yousafzai, built a chain of private schools which his children attended. A strong advocate for education, Ziauddin encouraged his children to speak their mind and fight for what they believe in.
Perhaps one of the documentary's strong suits is the ability to walk the viewer through Malala's early life, including her time secretly blogging for the BBC under a pseudonym to avoid being targeted by the Taliban. Thus begins the activism Malala is known for.
As the story unfolds, the most charming moments are those which the Yousafzai family are at their home in London, including fun-loving interviews from Malala's younger brothers, and showing the close bond Malala and her father share. The strength, courage, and bold voice Malala possesses is clearly acquired from her father, where her grace and loving demeanor is directly from her mother.
However, there are moments during Malala's interviews where you are left wanting more. Unwavering, Malala knows how to answer questions in a manner that is politically correct, yet honest. Although admirable, seeing a more vulnerable "human" side to the youngest Nobel Peace Prize winner in history would have been a charming additive. Similarly, you cannot fault her for not wanting to relive the moment she almost died, and how it changed her life forever.
On October 9, 2012, Yousafzai survived the assassination attempt by a Taliban member after continuing to go to school despite a ban placed by the Taliban. Advocating for girls to have the right to an education, Malala was targeted and shot in the head while riding her school bus home.
But some of the more beautiful moments, and tear jerkers, are the moments when Malala and her father travel to third-world countries helping to set up schools and teach the youth. When not educating future generations, they are helping Syrian refugees at the border of Syria and Jordan as they flee in the midst of a war, a life Malala knows all too well.
And it's seeing Yousafzai in these raw, emotional moments that make it hard to believe she is just 18-years-old. Her destiny was predestined, and it's as though her father knew this when he named her after a Pashtun folk hero who lead troops to fight for their freedom against British soldiers in the Battle of Maiwand.
Overall, Guggenheim's documentary is a beautiful picture that encompasses Malala's amazing story, taking you back in time with stunning illustrations. It really is a great documentary to add to the watch-list.