Have you thought about restaurant reservations for Mother's Day?  It's coming up on Sunday, the 12th of May and we have ideal weather in Phoenix for a delightful afternoon brunch.  However, if that's what you have in mind, don't wait until the last minute to make your restaurant reservations.  Many popular dining establishments in Phoenix are already fully committed for Mother's Day brunch.  While it's nearly two months away, if you plan to dine out, now is the time to make your reservations.  I did some homework and provided some suggestions below for restaurants that still show availability on Mother's Day and offer something unique, such as a patio or view.  Reserve on line using Opentable.com and read more here about the benefits and cash back opportunities of using OpenTable.  Please check menus for pricing to ensure the restaurant is within your ideal budget.
Details: 11111 N. 7th Street, Phoenix. 602-866-7500 (reserve online)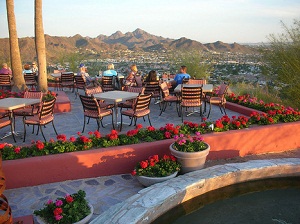 A Different Pointe of View sits atop the Tapatio Cliffs in the Pointe Hilton Tapatio Cliffs Resort. This restaurant is at the highest point of the property and offers breathtaking panoramic views of Phoenix. The menu has a Mediterranean influence and has been serving guests for over 25 years. Tiered seating ensures each guest can relic in the magnificent city view.  While the restaurant has been in business for over 25 years, the interior is well maintained and current.  While the food doesn't always compare to other luxury dining establishments in Phoenix, nonetheless, the overall dining experience is enjoyable with an unsurpassed view.
Details: 5700 E. McDonald Drive, Scottsdale. 480-607-2300 (reserve online)
Elements is situated on the north side of Camelback Mountain with spectacular views of Paradise Valley.  The restaurant recently underwent a stunning remodel that includes a new dining room, The Praying Monk, where you can enjoy the feel of indoor outdoor dining with open glass walls.  The restaurant resides in the boutique Sanctuary Hotel soothing Asian accents and lush gardens.  The restaurant offers a beautiful breakfast any day of the week but for Mother's Day they are sure to add some extraordinary creations. The typical breakfast menu offers some great picks.  Try the smoked salmon frittata, pumpkin chocolate French toast or buttermilk pancakes with sea salt better and real maple syrup.  No matter where you sit, the view will be gorgeous.  Chef Beau MacMillan uses hormone free meats, organic produce and sustainable seafood. They also have vegetarian and gluten-free menu offerings.
Details: 5550 E. Lincoln Drive, Paradise Valley. 480-948-5170 (reserve online)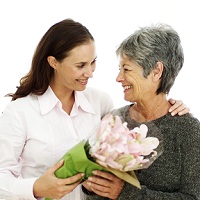 Brunch at El Chorro has been a long standing Phoenix tradition.  The restaurant has an expansive patio with fountains and lush vines meandering. For brunch, try their infamous eggs benedict with your choice of beef tenderloin, smoked salmon or Canadian bacon or their crème brulee French toast. Often, holiday brunches will be presented with carving, eggs made to order and dessert stations but this isn't guaranteed since El Chorro hasn't posted their menu for Mother's Day brunch just yet.from within color pots.  The menu has a southwestern influence and the restaurant has their own garden where they grow produce and herbs they use in their dishes.  El Chorro is famous for their delectable sticky buns and all their brunch entrees are preceded by a basket of the warm soft cinnamon buns.
Details: 4925 N. Scottsdale Road, Scottsdale. 480-424-6095 (reserve online)
Taggia is tucked away in the FireSky Resort in Scottsdale and offers tranquil patio dining with a wood burning fireplace and overlooking a lagoon with trickling falls.  The restaurant is open daily for breakfast and lunch. On holidays, they usually offer a prix fix menu.  The menu offers seasonal Italian cuisine and Chef Massimo De Francesca cooks with organic and seasonal ingredients.  While this restaurant is a bit rustic, which some may not care for, it is still elegant and the food is consistently rated high.  They serve piping hot rustic potatoes with most of their breakfast entrees and their omelets are fluffy and packed full of fresh vegetables and cheeses.  Taggia is very kid friendly and an affordable choice for a brunch.