It is no secret that it has been hot, hot, hot lately and can you think of a more perfect way to cool off then with a delicious popsicle? When you're in the mood for something cold and icy head on over to AZ Pops for a homemade treat!
This is not your average popsicle by any means though; all of AZ Pops' popsicles are created with fresh natural ingredients and no artificial flavors or preservatives. Flavors alternate by season to ensure the freshest, most delicious finished product. No matter if you're in the mood for something rich and creamy or icy and refreshing, AZ Pops has a flavor for you.
Available flavors range from classics like Raspberry Lemonade and Mixed Berry Lime to creamier treats such as a Chocolate Cookies & Cream and Tiramisu. But, it doesn't stop there; AZ Pops offers specialty, out of the box flavors that are sure to surprise your taste buds. A few of my favorite not-so-common, unique flavor combinations are Lemon Poppyseed, Strawberry Balsamic, Sesame Cucumber and Key Lime Mint.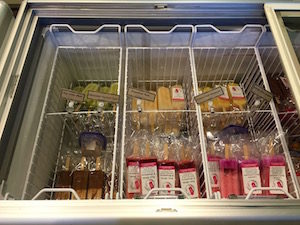 Not so sure about a flavor? No worries, AZ Pops wants to make sure you enjoy your sweet snack, so you have the ability to try a small piece of any pop you like before purchasing. There is also the option to have your pop "dipped & crusted." The popsicle is then dipped in chocolate and covered in your choice of either crushed peanuts, pretzels, or shredded coconut. Popsicles are $3 each but are also sold in a bundle option of 10 for $25 with dry ice provided for transportation to make sure your pops make it home safely in this heat!
AZ Pops has two storefronts, but if you cant make it there, don't worry! Their popsicles are sold in six valley Whole Foods locations, Luci's Healthy Market Place, British Bicycles, and Shine Coffee Shop. Also, during the cooler months popsicles are sold at some of the local farmer's markets. All information regarding where to purchase an AZ Pop is available on their website under the 'Find Us' tab.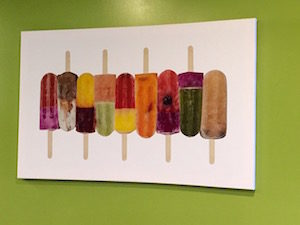 If you're looking to branch out from the same old same old or just on an ice cream hiatus, AZ Pops' popsicles are delectable treats that will not disappoint. This family run business has a warm and inviting vibe, despite the cold product and with the store's vibrantly colored walls, it is difficult to not feel like a 'kid in a popsicle shop!'