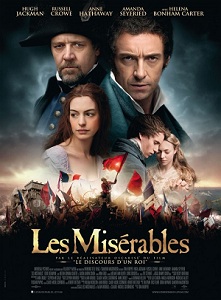 If I had to pick the most depressing movie of 2012 it would be Les Miserables. Anyone who has seen the theatrical version or read the epic tome can attest to that. The story follows an ex slave named Jean Valjean (Hugh Jackman) who runs away to try and rebuild his life as a good man after being permanently deemed a "dangerous" one. To make matters worse, the officer who granted him parole, Javert, (Russel Crowe) ceaselessly hunts him down.
On the surface it sounds like a B action movie. However when one remembers it is a musical set during France in the 1800s, among revolution and wide class disparity throughout the country, a little perspective can go a long way.
Anne Hathaway, Hugh Jackman, Russel Crowe, and Amanda Seyfried star in the Tom Hooper directed release. The songs alone are enough to bring a sob to the back of your throat, but when Anne Hathaway belts out "I Dreamed a Dream" with almost no hair and tears streaming down her face, most find themselves making the most hideous faces in order to prevent complete loss of control of the tear ducts.
It takes a while to get used to dialogue that is completely spoken in song, but after about 15 minutes or so you discard your minor complaints about the film and become engulfed in Jean Valjean's toiling to salvage what little dignity he has left.
Hugh Jackman's voice was surprisingly not horrible to listen to. Again, as with most musicals, it takes a good while to put yourself in a
world where everyone sings in every situation. Jackman was authentic in this role and for a few hours he convinced everyone he was an impoverished Frenchman.
Russel Crowe proved to be the male star of the show, although Jackman was the protagonist. Crowe's performance as the officer, Javert, who hunts down Valjean until his last breath is spectacular. His voice was the most difficult to become acquainted with despite his performance being heart breaking.
Anne Hathaway, for the mere half an hour she appeared in the movie, blew me away. I wept like a child throughout the telling of her story. She cut her hair into a pixie cut for this film and that dedication paid off. This is her best performance of the year. Her take on Catwoman in The Dark Knight Rises was impressive, but as Fantine, a wounded mother in desperation attempting to pay for her only child, she kicked off the heart wrenching mood of Les Mis. I continued to remember how she struck me during the entire film.
Overall I would say the biggest joy in the film though, were Sacha Baron Cohen and Helena Bonham Carter as the inn keeper and his wife. Comedic relief was necessary in a piece as dismal as this. Carter and Cohen are known for their over dramatized roles and the casting director struck gold with these two. The two were also in the movie musical Sweeney Todd: The Demon Barber of Fleet Street back in 2007 so the prior experience was advantageous. With impeccable chemistry and surprisingly impressive vocal abilities, the team made the audience laugh and delivered a much deserved break from the emotional trauma all were experiencing.
The actors and actresses were enough to make this film a success. Despite the embarrassing amount of water flowing from my eyes, I would see the film again. One must keep in mind that although I would recommend this film to anyone who asked, there is some heavy emotional weight presented in it. Do not go see it if you are looking for a feel good movie.
Les Miserables proved to be a 7/10 film fraught with 10/10 performances that may be potentially award winning. Overall the film earns a 9/10 though.