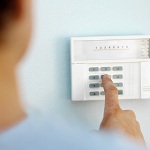 You have decided to have a security system installed in your home or business.  Before you make your decision on which security company you'll do business with, there are important questions to get answered. The answers to these questions will determine just how much protection and peace of mind you'll have with your security system and monitoring company.
Does your company do thorough background checks on all employees and sub-contractors?  The company you decide to do business with will have your name, address, date of birth, social security number and payment information. This information can be used for identity theft and fraud. In addition, you should know that the installer that is coming in to your home or business does not have a criminal record, drug use or credit problems.
Is your company licensed, bonded and insured? There are many companies that 'open their doors' that are not registered or licensed with the Registrar of Contractors and who do not carry any insurance coverage to protect you or your premises in the event of damage or injury to you or them.

Be sure you are protected from losses or lawsuits from the security company.

How can I be sure that the coverage and protection I want from my security system is the coverage I'm going to get? There are many security companies that advertise 'Free Security System'. Read the fine print and know exactly what is being offered, and exactly what is not included. Be sure you ask what the additional costs will be for the types and quantities of sensors your premises needs to provide you the protection and peace of mind you deserve.
Who will be monitoring the security system and what qualifications and ratings do they have? There is a difference in monitoring companies! Look for a monitoring company that is a 5 Diamond Rated monitoring company.  These companies are rated within the industry for the highest level of customer service, highly trained emergency response agents and work to minimize false alarms.
What type of warranty or guarantees does the system come with, and who is providing them? Any guarantee or warranty should come from the manufacturer of the equipment and the monitoring company. Warranty should include replacement or repair due to equipment manufacturing defects. Guarantees should include Quality Installation, Theft Protection and Relocation.
Are you an Authorized Dealer for the monitoring company? Many security companies contract with local monitoring companies to provide service for their installed systems. However, there is no contractual commitment or guarantees extended to the customer. In the event the monitoring company does not respond to an alarm or emergency, you have no legal recourse against the monitoring company.
Do I own the equipment or is this a lease agreement? Many security companies offer 'Free Systems' with low cost installation because they are leasing you the equipment. If you move, the equipment stays with the premises. If you own the equipment, you can have it moved to your new location and continue your monitoring agreement at the new location.
Am I getting the newest and most up to date equipment? Be sure you are getting the newest equipment; some companies install those 'Free Systems' with used equipment. Security systems use technology to detect and protect your premises.

It's important to have new equipment with the most up to date software and firmware versions.

Does the system include all of the necessary features and points of protection for my premises? Each residence and business is unique and you have specific needs and concerns. Therefore, it is important to do business with a security company that provides you with information and options to provide you with the best security solution possible, not just a pre-packaged 'Free System'.
What additional fees or charges will I need to pay to have a security system? The answer to this question is really a two-part answer: 1) There are potentially additional fees associated with having a security system. Depending on the city or municipality, there may be an annual Alarm Permit required and a fee associated. These fees are determined by the city or municipality and should be paid directly to them, not the security company. Additionally, false alarms also result in fines from the city or municipality. As indicated, these fees and fines come from the city or municipality of your premises. 2) Some monitoring agreements allow for future fee increases. So, that 'Free System' with a low monthly monitoring fee can and will increase. Be sure you know what kind of monitoring agreement you are entering into.