Beaujolais Nouveau- A Tough Year for This Seasonal Wine
November 16th, 2017 was the official release date of Beaujolais Nouveau. While I could not be in the South of France to try this year's vintage, I was fortunate enough to be able to do a tasting at the French Market in Downtown Chicago.
The tradition of the release of Beaujolais Nouveau dates back to 1951, and it is a young wine harvested from Gamay grapes grown in the Beaujolais region, which lies south of Burgundy. It is usually a light red wine, and is often a favorite that is shared during Thanksgiving and the holidays both in France and abroad.
The climate and weather are always a factor in the quality and taste of wine, and this year was no exception. The Beaujolais region was hit with a frost in the early spring and then the weather was warm and dry throughout the rest of the summer. Unfortunately, hail storms in July hurt many of the vineyards in this region. Because of these extreme conditions, there has been speculation of how the wine would fare this year. This wine is bottled and tasted in the same year and so there is not time for it to age and develop depth.
I tasted four different Beaujolais Nouveaus this year, and was able to enjoy them with a Belgian Burger (covered in smoked gouda and grilled sweet onions) and a healthy helping of Belgian Fries from FrietKoten.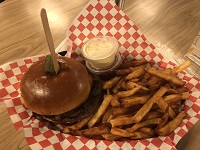 Domaine Cheveau– A wonderful deep red color, and a juicy berry taste. Of the four that I tasted, this was my favorite. It was delicate and delicious. It paired well with the salty taste of my fries. (Which was paired with both ketchup and mayonnaise)
Regnie– A close second, but its color was not as bright, and its taste fell flat on the back of my palette. It was a more zesty and spicy wine, and might go well with a holiday ham, or even pork stuffing.
Morgan– The next two wines I tasted, to me were almost undrinkable. I am not sure what was wrong with these wines, as they had an almost burnt rubber taste. The bouquet was light and promising, but it was not something I could drink. I thought it was maybe just the particular bottle that I had tried, until I reached my last glass to test.
Wild Soul– This wine was worse than the last, with an almost musty smell, and the color was an almost brown rust color. It was very disappointing because the description of this wine at the event was- Savory scent, good attack on entry, lighter bodied.I hate to ever dump wine, but these last two selections were not even in the same class as the first two, and from what I heard around me from other tasters, they also were having the same experience.
The food was divine, and the live French music lightened the atmosphere. The small cafes, restaurants and confectionaries make the Chicago French Market worth visiting any time of the year.
Chicago French Market
131 N Clinton St, Chicago, IL 60661