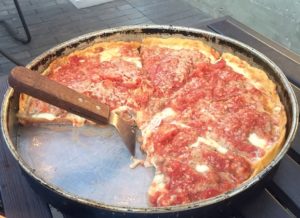 A Chicago favorite has made its way to the valley! Chicago pizzeria, Lou Malnati's, made its first out-of-state debut in central Phoenix last Monday, May 16th. Lou Malnati's is known for being one of the first pizzerias to specialize in deep-dish pizza and has been doing so since its conception in 1971. This family run business translates into the family-friendly atmosphere present within the restaurant, with an open floor plan; there is a continuous flow from dining room, to bar, to patio.
Known for their Italian classics and deep-dish pizzas, Lou Malnati's is serving up these fresh made favorites all evening long. Due to the recent grand opening there can be a bit of a wait, but you are able to place your deep-dish order before you are seated in order to reduce wait time. I visited the well-known deep-dish pizzeria on a Thursday evening around 5:30p.m. Our party of two was served efficiently despite the busy atmosphere. One other person and myself shared Lou's Bruschetta, a medium Malnati Chicago Classic deep-dish pizza, and we finished our meal on a high and sweet note with the Chocolate Chip Pizza Cookie, it is a must! It was the perfect dinner for two for under $40.
Currently store hours are from 4p.m. to 11p.m. Sunday-Thursday and 4p.m. to midnight Friday and Saturday. Lou Malnati's will open for lunch beginning on June 1st. Current hours will be extended to Sunday-Thursday 11a.m. to 11 p.m. and 11a.m. to midnight on Fridays and Saturdays.
Live in the Central Phoenix area? Check out if you're within their delivery zone online at LouMalnati's.com. Along with dine-in and delivery services, place your order ahead of time and head in to pick up for take-out. Check out the take-and-bake service as well, purchase a frozen version to your favorite deep-dish pizza and bring it home with you to bake and enjoy at your leisure.
The pizzeria is located in the Uptown Plaza shopping center located on 1st Street, just north of Camelback Rd.