Disney Just Banned This from Their Parks – And It's About Time
The happiest place on earth just got a little happier, for nonsmokers, that is. Disneyland recently announced it will no longer be providing designated smoking areas in its Anaheim and Orlando theme parks. Smoking will no longer be permitted inside Disneyland, Disney World, Downtown Disney District, and other locations.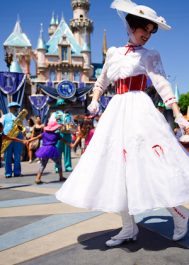 As a mom and Disney enthusiast, this is a huge win. While I can't say I understand the needs of smokers, I do understand the negative side effects of nicotine and second-hand smoke. With the numerous family-friendly destinations Disney runs, it never made sense for smoking to be permitted anywhere near the parks.
I recently spent an entire week at Disneyland in Anaheim and was shocked by the number of people in the smoking areas. While the designated areas were few and far between, they were high traffic areas with babies, kids, and expecting mothers. All who should never be exposed to second-hand smoke, especially at a destination like Disney theme parks.
Smoking isn't the only thing recently banned from the parks. Strollers also have new regulations that should be kept at top of mind for parents with small children who plan on visiting the parks. Strollers will now be required to be under 31 inches wide and 52 inches long. It was also noted that ice will no longer be allowed in strollers.
According to the statement, these updates were designed to help ease congestion and make the parks more enjoyable for all its guests.
With Disney theme parks becoming more popular every year, it's no surprise that new changes are going into effect.
Make your Disney trip an unforgettable experience and plan in advance. To stay up to date on all new rules and regulations for Disney theme parks, visit https://disneyland.disney.go.com/park-rules/.