Phoenix's culture and downtown districts continue to boom with growth and diversity. Among the diversity is a large community of LGBTQ members. However, like any community, if you're not a member you probably do not know the events currently taking place.
Gia Guerra is a 23-year-old makeup artist. Soft spoken, she will greet you with a hug, a gesture that has become foreign when two strangers are meeting each other for the first time. As she begins to tell her story, it is immediately noticeable she has insight into a world that is far from what many will ever be a part of.
Guerra says she always knew she felt different.
"In high school I would try and be a boy, but still be more feminine. I would always have friends that were girls, and I would always watch them do their make up and hair," Guerra said.
One night Guerra attended a theme party one of her old high school friends was throwing. For the party Guerra dressed as a woman, a change that was greeted by her friends with astonishment, but positive feedback. For Guerra, the change felt right.
"I don't really like the phrase 'a women trapped in a guy's body,' I know I'm born genetically male, but I'm proud of it. That's what makes me special and unique," Guerra said.
In 2011 she began her transition.
"I would secretly go to the doctor and get prescribed hormones," Guerra said, who was lucky enough to find a doctor through a friend. But when her doctor suddenly passed away, and her health insurance was switched to a different provider, Guerra found herself without a doctor, and unable to pay the high price for her hormones.
One concern the transgender community faces is finding doctors who are able to provide competent care, and according to the National Center for Biotechnology Information, only 30 to 40 percent of transgendered individuals use some form of healthcare, forcing many to pay for their hormones out of pocket.
And many transgender men and women have a hard time finding employment. According to the National Center for Transgender Equality, unemployment in the transgender community is twice the rate of the general population. Many individuals have reported workplace violence, discrimination, refusal to hire and even being fired.
For Gia, she was lucky enough to already be working for a company that welcomed her regardless of her transition. But as Gia explains, just because her current employer was so accepting doesn't mean she'll be greeted with the same open arms in the future.
"I think I'm more afraid to leave my job because I'm terrified to even go and apply places. It's a little terrifying to think 'this is all I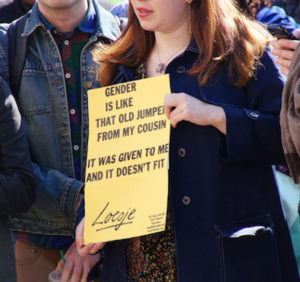 have, and what if there is nothing else out there for me?'"
When a community is faced with a high unemployment rate, it is no surprise the poverty rate is just as high. Many transgender women turn to sex work to make quick cash. According to the National Center for Transgender Equality, one in eight will turn to sex or drug work in order to survive.
"Almost every trans girl I know are sex workers. I think it scares them to go out into the world [and look for a job]. A lot of girls can't get out of it," Guerra said, "It's a quick way to pay for your transition."
And if workplace discrimination isn't enough, transgender women experience violence and harassment at a frightening rate. Statistics illustrate just how real the problem is. The 2014 report from the National Coalition of Anti-Violence Programs show 55 percent of homicide victims were transgender women, with the LGBTQ community experiencing an 11 percent increase in homicides overall. 
But staggering homicide statistics are not the only numbers that need attention. In the same report, the LGBTQ community was ranked the highest at risk for severe violence, which include physical injury, physical violence, and injuries suffered due to hate violence.
And the numbers don't stop there. Transgender violence survivors were roughly six times more likely to experience some form of physical violence from police officers.
Across the nation violence against the transgender community has become a topic of discussion, and more importantly people are asking what needs to be done to stop it.
According to truth-out.org, hate-crime legislation focuses on allocating additional funding to hire more police officers, but fails to provide additional resources to combat the actual violence. Furthermore, violence against the transgender community is difficult to expose when a percentage of the violence is at the hands of law enforcement officers. 
As Guerra says, the transgender community needs to continue receiving attention, while providing education.
"I feel like it has always been flat-lined when it comes to the transgender community. I think people are intimidated and confused by trans people. There is a barrier of misunderstanding," Guerra said.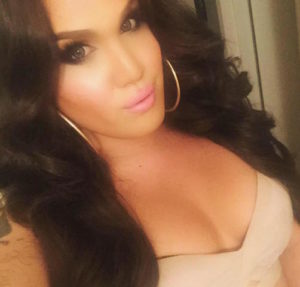 Guerra suggests the community needs more resources, such as job fairs, to help promote equal opportunities while hopefully diverting ladies away from prostitution.
No matter what obstacle is thrown her way, Guerra maintains a level of composure that is humbling to see, and is a reminder that every person deals with insecurities, fears and the desire to fit in somewhere.
"I couldn't imagine myself turning back," Guerra said. "There will be people that will love you for who you are, you just have to find it and don't rush things. Everything will fall into place."