Sewing was something I was destined to do, it's my passion!
I developed an interest in middle school but I didn't get my first sewing machine until college. An old Singer from a thrift store was my first machine and most days I wish I still had it. I can remember my very first step on that pedal and I still have the first quilt I ever made with it.
When that old Singer finally became unusable, I got a brand new one. It was literally called Simple Singer and I loved it. However, when quilting became tedious and I wanted to use different fabrics my machine was no longer powerful enough.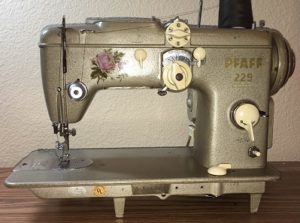 I was determined to buy myself something new after Christmas in 2014. Luckily, my quiet complaints and frustrations were noticed by someone. Apparently my boyfriend, Sean, had noticed my sighing and talk of getting a new machine. So he and his mother, Sharon, went in together and gave me the most beautiful machine I had ever seen.
Taken aback at first by its old fashioned look I didn't know exactly what had been given to me. My new Pfaff machine was from the 1940's, made in Germany and has the power to go through 5 layers of denim. In the sewing community, that is a powerful tool!
Naturally, with a sewing machine that really had no limits, I began to experiment. Little by little I acquired mountains of fabric, beautiful fabric scissors (apparently getting me sewing supplies was the theme that year) and a dress form. I had officially moved out of the realm of making boring quilts and found my real passion. Apparently, making and designing clothes was just the natural course of my creative development.
What I'll say first is that making clothes is not easy. I started off with patterns and found that they were not only confusing but did not give me the shape I wanted in my designs. What did I do next? I started making things without a pattern of course! The only downside is that this has led to more one-of-a-kind designs than things I can actually replicate. However, I have gotten it down to a science. Designing and making clothes is like a puzzle. I have now gotten to the point that I can look at a dress and take it apart in my head to recreate it at home. It makes it very hard to buy things at the store, but I also appreciate handcrafted clothing more.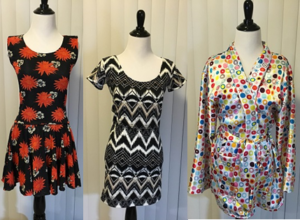 There's a lot more that goes into making clothes than most people think.  Before you even go near your sewing machine you have to measure your client, measure fabric and pray you don't forget to cut in the right direction.
And before you even cut there is the issue of ironing! Trust me on that one, it's important and makes your end product a million times nicer.  When you are finally ready to sit down and work hopefully you remember to check your bobbin and make sure there is ample thread for the section. You also have to be sure your fabric and thread match and that you are using the appropriate stitch. A lot of times you are just so excited to get your project done you forget about the bobbin step!
Designing and making clothing is my passion. For the Love of August (the name of my line), was born out of creativity and dedication. There's nothing like the feeling of walking into a fabric store and seeing the possibilities. Touching every type of fabric as I walk through the store is honestly one of my favorite pass times.
Hobbies are important in keeping your sanity, and passion and hobbies usually go hand in hand. So tell us, what is your passion readers of SmartFem? Cooking, writing, running? Whatever it is, make time to do it!