Have you gotten too comfortable in your relationship? Constantly spending time with your partner without even taking a breath? I understand that you are in LOOVVEE and you feel as if your partner is your entire world. There's nothing wrong with being comfortable in a relationship. Why shouldn't you get to that level of complete comfort with your boyfriend or girlfriend?
If you ask any couple that has been married for 30 plus years they will tell you the reason they have lasted that long is because of trust. And in order to trust someone you have to be comfortable with them, right?
But, how close is too close? How comfortable is too comfortable? I'm sure your significant other has had the pleasure of seeing you at your best and (depending on how long you've been together) your worst. You know, the morning YOU… with no makeup, bed head, dazed and confused because you were woken up from the best sleep of your life. It wouldn't be considered too comfortable if your boyfriend took care of you when you were laying on the bathroom floor attached to the toilet, right? Or for him to see that glimpse of crazy in your eyes when he forgets to put the toilet seat down?
So… what kind of acts are considered to be TOO MUCH?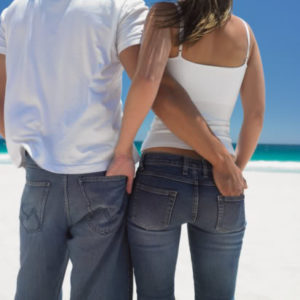 I have asked a group of women who have compiled a list of 5 signs that can tell you if you are too comfortable with your significant other.
You feel no embarrassment farting or burping aloud…
You can take care of both #1 and #2 on the toilet with your boyfriend in the bathroom with you…
You feel no shame popping each other's pimples…

Granny panties become your go to panties…

Manners, in general, have been completely thrown out the window…
Like I said, there is nothing wrong with being comfortable with your love bug. It's when that comfort turns into complacency. According to E Harmony, that complacence can lead to couples feeling "disconnected, unappreciated, and undervalued." That is a place you don't want your relationship to get to.