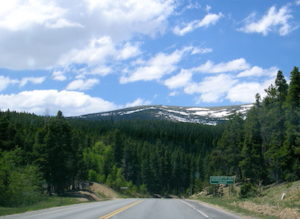 Aspen is the spirit of the Old West colliding with 21st Century luxury.
The town began life as a rough and tumble silver mining camp, with far more saloons than churches, and a population of immigrants and adventurers out to strike it rich. A few did and most didn't, but the entire town fell on hard times when the bottom fell out of the silver market. It didn't revive until half a century later, when a wealthy businessman saw Aspen's potential as an upscale ski resort and cultural oasis in the Rocky Mountains.
The adventurers still flock to Aspen, but more often than not you'll find them on a whitewater raft, snowboard or mountain bike. And the wealthy Aspenites are Hollywood celebrities or the uber-rich who have turned a near-ghost-town town into a luxury enclave.
But Aspen isn't quite what you'd expect. It isn't stuffy: there's a "Western Casual" feel around town, and folks are friendly and unpretentious. For every tourist sporting a $1000 outfit, there's a "free spirit" in dreadlocks and scuffed sandals. This town really does have the best of both worlds: You can fly fish, ski, hike or bike the mountains by day, and dine on gourmet food and super-premium wine by night.
You can also park your car when you hit town, and not touch it until you leave. There are plenty of hotels, restaurants, shops and activities within easy walking (or biking) distance, including monstrous ski hills that loom above the town. In fact, riding the Silver Queen gondola almost 2,000 feet up is thrilling (and kinda scary!), whether you ski down in winter or hike the trails at the top in summer.
My personal favorite quirk about Aspen is its affection for their adopted son Hunter S. Thompson, who lived and drank around Aspen for a good part of his life. The "Fear and Loathing" author and Gonzo Journalist ran for sheriff in 1970 on the "Freak Power" ticket and shaved his head so he could criticize his "long-haired" opponent (who sported a buzz cut). Delightfully, he almost won.
And you gotta love a town that welcomes Marijuana Tourism (yes, there's a name for it) and offers several Oxygen Bars to revive the weary.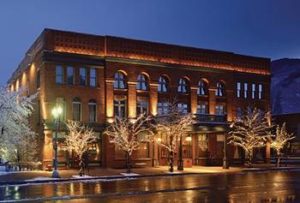 To get a taste of the food and wine scene, start with old-time Aspen at a bar that's been wetting patrons' whistles since 1880. The J Bar in the Hotel Jerome is a throwback to the days when Doc Holliday, Wyatt Earp's buddy, gambled and drank there. Hanging out at the bar here should be on your "must do" list. It's easy to imagine the "old days" from the battered wooden bar-back, tin ceilings, and period chandeliers. But the Jerome Hotel is no musty, dusty, old relic. It was bought by a boutique hotel chain and renovated into — you guessed it — a historically faithful luxury resort. The food here was delicious, and the wine list was very "big city."
You'll also enjoy a relative newcomer, Pinon Cafe, which has thrived as a second-story walk-up for almost three decades. The menu was stacked with great local flare, like truly awesome Rocky Mountain Trout and Colorado Rack of Lamb.
To experience the lifestyles of the Aspen rich and famous, hang out at Elements 47 at The Little Nell hotel. Don't let the quaint name fool you: The Little Nell offers the kind of service and amenities you'd find at the best hotels in New York or Europe. The award-winning wine list includes bottles in the five-figure range (care for a Screaming Eagle or Domaine Romanee-Conti?). But again, staff were friendly and helpful. We were treated to Amuse-Bouche (those tiny little appetizer nibbles that really expensive restaurants offer for free), and our entrees were very tasty (if not very voluminous).
And here's a tip for you caffeine freaks: the best Espresso in town is at Victoria's on Durant Street, where you can hang out with the locals and read The Aspen Times, which has been publishing out of its office on Main Street since 1881.
For a great mountain vacation, winter or summer, you won't do better than this gem in the Rockies. Cheers!