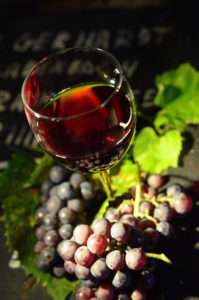 It takes a lot of guts and spirit starting a business, and even more so when the business you're taking over is already in debt.
But that's exactly what Michael Houlihan and Bonnie Harvey, co-founders of Barefoot Wine, did.
And they had spirit the entire time. The barefoot spirit, to be exact.
Both business consultants, Houlihan and Harvey were independently working in the Wine Country when Harvey's client, a grape grower, came to her with a problem.
He had been selling his grapes on a handshake, and was now trying to collect 300,000 dollars worth of product he had provided to a winery that had yet to pay him.
Desperate to retrieve the monies lost, Harvey enlisted the help of Houlihan, who worked out a deal with the winery right as they were filing bankruptcy.
The deal was instead of paying the grower back pennies on the dollar, pay him in wine.
With 300,000 dollars worth of bottling services and bulk wine in tow, it was now up to Houlihan and Harvey to label, market and sell the wine.
"How hard can it be?" Houlihan jokes. Turns out a little harder than they thought.
Never intending to be in the wine industry, it was up to them to figure out how to enter a world they knew little about.
"I go into the wine industry and start asking the buyers of the large supermarkets what they want," Houlihan said.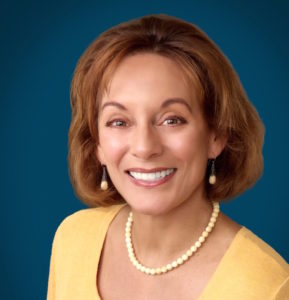 And this single question turned out to be the golden ticket.
"Nobody asked the biggest buyers of wine in the state of California what they wanted," Harvey said.
They got their answer when Houlihan asked a buyer for large supermarkets this question, to which he replied, "I want a salt and pepper act, I want it better than Bob, cheaper than Bob, and I want you to put it in a pig."
The buyer then concluded that the label has to match the logo, everything on the label should be in English, and she has to be able to recognize it from 4 feet away.
As bizarre as this all sounded, Houlihan quickly found out that what the buyer said he wanted was a label that has a red and white varietal, that costs less than Robert Mondavi's wines but tastes better, and comes in the 1.5 liter bottle.
A tall order to fill no matter which way you pour it.
But it was an order served with great hints. There was a hole in the market that no existing product was filling, and she needed to see and recognize it from 4 feet away.
She.
The women who shop for the groceries every week, who needs to see the product from across their shopping carts and recognize it.
Armed with information, Houlihan and Harvey set out to target their demographic with a bottle that was relatable, and a product that was easy on the palette after every sip.
The next task was to get their wine stocked in stores, but when only 10 out of 100 stores said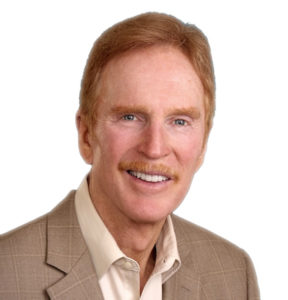 they would put it on the shelves, the duo new it was time for a new approach.
A neighborhood association was raising money for play equipment for a new park and called looking for donations. Instead of giving money, Houlihan and Harvey offered wine.
It was doing this that allowed the pair to stumble on a great idea.
Instead of pouring hundreds of thousands of dollars into marketing and advertising, why not get their brand noticed by participating in community functions?
Through participating in various charities and organizations, Barefoot Wine created a name for itself.
The organizations and non-profits would highlight Barefoot Wine during their functions, and soon attendees were running to their local market looking to buy it.
With more donations made, sales continued to grow, and pretty soon the tactic known as worthy cause marketing was created.
Creators of the method, Houlihan and Harvey credit worthy cause marketing for their success since it allowed them to advertise their product without costing them anything.
And it was through this method that Barefoot Wine grew a following.
The women who were grocery shopping for the week were running with their 4 foot long shopping carts to get a bottle of wine that costs less than Mondavi and was easy on the pallet.
In just a few short years Barefoot Wine took off in California and became everyone's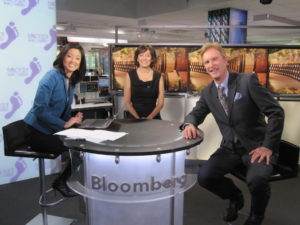 weekly go-to wine.
But Barefoot Wine continued to evolve as the market did, using the idea of community involvement to continue to grow the label.
Having a large following already, Barefoot Wine was able to create an online presence from, quite literally, the social networking Houlihan and Harvey did at various functions and charities.
And they took it a step further by being the first to print a 1-800 number on the bottles for comments and concerns.
By asking the customer what they wanted, Harvey and Houlihan were able to provide consumers with a product that flew off the shelves.
But none of the success came without hard work and putting every ounce of energy they had into their product.
"We lost our minds," Houlihan jokes, "but start small because you're going to make a lot of mistakes."
"We wrote everything down because we knew right away we couldn't do it all," Harvey said.
Using all the resources they had, the pair kept a boots-on-the-ground mentality by going to every function Barefoot Wine was highlighted at, every store Barefoot wine was stocked in, and listening to all the comments from the buyers, the shelf stockers, and everyone in between.
"You have to be prepared to do all the jobs yourself," Houlihan said.

Today, Barefoot Wine is the No. 1 selling wine in the U.S., and is especially favored among those who are just developing their palette for its crisp, refreshing taste.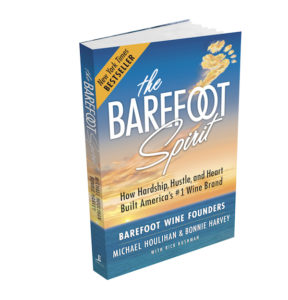 Michael Houlihan and Bonnie Harvey are helping businesses today with their consulting, training webinars and keynote speaking, as well as speaking at universities and conferences around the world.
With their New York Times bestseller, "The Barefoot Spirit," Houlihan and Harvey continue to challenge startups and entrepreneurs to build their brand with strategy and heart.
And as for the grape grower, well he's sitting in Wine Country somewhere 300,000 dollars richer and sipping on wine…barefoot.