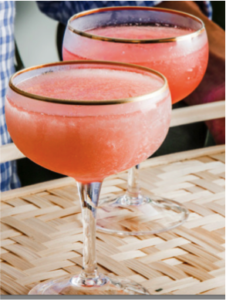 Frose, the delicious frozen Rose wine slushy!
Of course! It's a frozen Rose wine slushy! Why didn't someone invent this sooner? If they had, I would have been enjoying this long before now. After all, what's not to like about an awesome adult beverage combined with one of our favorite childhood comfort "foods?"
It seems that a bar in New York created a frozen cocktail with pink wine, lemon juice and sugar, and it caught on fast. The Frose frenzy is now trending like crazy in bars and bistros on several continents. Better yet, a Google search will turn up plenty of yummy recipes that you can make at home.
And it's easy to whip up a batch of Frose in your kitchen — no exotic ingredients or equipment is needed. Try the Allrecipes.com recipe with strawberries, Rose and sugar, or amp it up with the RealSimple.com version that includes Vodka and Grenadine.
Try using a darker colored Rose in the $10 range from Spain, France or Argentina: deeper color equals more intense flavor. And play with your ingredients: substitute watermelon or raspberries for the strawberries, and add a splash of fruit liqueur. Now we're talking!
I can't think of a better beverage for brunching with friends, hanging by the pool, or lounging at your favorite bistro.
And jump on the Brose bandwagon!
And there's more good news for Rose lovers. Those who bother to conduct studies of such things, say men are bridging the gender gap and embracing what used to be a mostly-female beverage. In fact, they've named the phenomenon: Brose!
Real men do indeed drink pink wine, and it's high time they did!