"Ingrid Goes West" and the Dangers of Instagram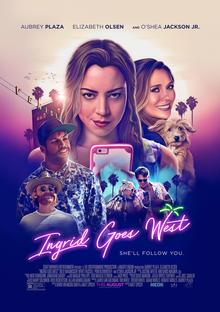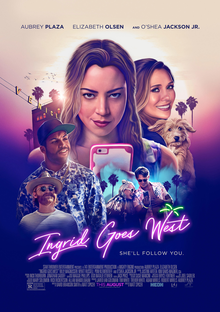 Instagram can be a fun social networking platform used to admire your friends' amateur photography and support your bestie's vintage clothing start-up, but it can also be deceiving. Sometimes reality can fall to the wayside if you immerse yourself in someone's "Insta" long enough. It can feel like you know them. It can feel like you know everything about them. You know where they eat, where they shop, what they buy, who they hang out with, what their favorite dive bar is…
But do you really know them?
A new film starring Aubrey Plaza, Ingrid Goes West explores this social media phenomenon. Plaza plays an Instagram stalker who does whatever it takes to be a part of Elizabeth Olsen's aesthetically pleasing life. Ingrid (Plaza) feels as if she knows Olsen's character, so why shouldn't they meet and be best friends? Ingrid Goes West premiered on August 11, 2017 and reaches select theaters in Arizona next week.
The social media era that currently surrounds us is overflowing with over-sharers. On Twitter you can rant, rave, and say whatever clever little thing you want. Facebook is for memes, news, and activism now. Aside from the constantly evolving Snapchat, Instagram is one of the most intimate social media platforms out there. It is not intimate in the way chat roulette was back in the day (I shudder to remember the horrors of the MySpace age). Instagram is intimate in the sense that it constructs realities for audiences.
For example, Drake posts cryptic captions under professional tour photos with a filter. But the fact that you can personally like Drake's Instagram post along with Beyonce, Nicki Minaj, and Metro Boomin feels like you belong to something.
Kim Kardashian-West uses the social media platform in a multifaceted manner. She advertises products and gives users a peek into an enormous vanity mirror as she tries on dazzling dresses and does her makeup. It feels like Kim wants you to get ready with her. Like your friend. Like when you bring over a suitcase of outfits and makeup to your friend's house and try them on before you hit the town.
Ms. Kardashian-West is not really your friend though. Most Instagrammers can recognize that much. But the line can blur when it comes to lesser known celebs, Insta-models or internet personalities. Many of these people run their own accounts, or at least see what gets posted or commented. They are able to like your comments, follow you back, even like your posts if it generates your attention.
What happens when it is not authentic?
Some of these accounts are fake, or have hidden agendas. Last year a Parisian ad agency created a fake account for a fake person in order to promote addiction awareness. No one had a clue until the firm released the truth and a video explaining the project.
Another common Insta-scam is people buying likes and followers to make money through sponsorships. While this may seem like a harmless surface-level plea for attention, it can turn into serious business. Brands across the globe sponsor Instagram users and "influencers" to promote their products. This can range from a company sending a user free clothing and food, to sending actual money for promotions. Now, whether the company knows or cares about the reality of the account is another story. Needless to say, it is easy to be fooled into being fed contrived ads on the platform.
The final Insta-danger is over-sharing. When people check in at their favorite hangout spots, or constantly photograph their location or atmosphere, it can open up serious safety risks. We have all been told not to share our address on the internet, but if you are frequently checking into a local coffee shop in Venice Beach, you might as well have posted, "I am here all the time if you want to find me!"
In Ingrid Goes West, Plaza's character exploits her social media crush to the point where it becomes too real. Think twice next time you are thinking about letting your followers know your exact location for the following hours. Consider posting after you get home safely.