Beginner's Guide to Sephora: Face Masks
Sephora can be either a wonderland of luxury or an anxiety-inducing excursion for women. There are so many different products that do similar things it can be difficult to know which direction to turn. Have you ever needed a mascara but all the associates were busy doing makeovers on clients? Does the thought of skin care send you into a confused frenzy? Fear the black and white stripes no more! This series of articles will give you a basic crash course on what to choose when you are in Sephora overload mode.
This summer it is all about taking care of your precious epidermis, specifically your face. When the average temperature is in triple digits it is prime time to protect your skin. What happens though, when sunblock and daily cleansing are not enough? Everyone's skin is different and acts up in various ways. Face masks are excellent ways to give your skin extra hydration, exfoliation and whatever else it may need.
The first thing to note about face masks is that no two are created equal. Some masks require your face be wet, some dry and clean. There are sheet masks, clay masks, bubble masks, leave on masks and many more. Identify your skin care issue and proceed to choose one that is right for you. For this column we will identify masks good for first time users with oily, dry, and combination skin.
DISCLAIMER: Based on your experience with skin care products, you may be more familiar with certain additives and ingredients. It is important to know what you are putting on to your face. Always check products for allergy information before you put it on. It is equally important to note the ingredients if your skin breaks out or gets worse.
Oily: Charcoal is your new best friend. Charcoal is known for its cleansing properties and it is a porous substance. Charcoal masks tend to draw oil and sebum out of the pores to make them look smaller. Here are options for a charcoal face mask and a charcoal sheet mask.
Origins Clear Improvement Active Charcoal Mask to Clear Pores– This mask has a fresh, earthy smell when you squeeze it into your hands. It has almost a cooling feeling to it and after application you should wait until it completely dries before rinsing. This mask will leave your skin feeling bright and clean. You end up gently massaging the mask into your face when you re rinsing so the treatment gets deep into oily pores and absorbs excess oil.
boscia's Charcoal Pore-Minimizing Hydrogel Mask– This slimy sheet mask makes you look funny and it feels pretty unappealing. When I first tried it, I did not think it was even doing anything while I waited 15 mins before taking it off. It was a pleasant surprise when I removed the mask and massaged the residue into my skin that I saw my skin was glowing. My skin was hydrated without being oily and my breakouts and pores were visibly reduced.
Dry: While it is possible to over-moisturize when dry skin plagues you, you must think smart about your masks. It is always about quality, not quantity. Moisture masks are often rose scented as rose water is extremely hydrating.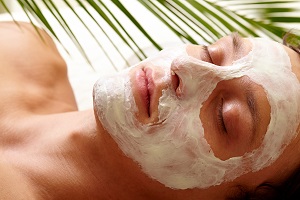 Sephora Rose Hydrating Mask– Don't be afraid to try Sephora's brand name line. Their mask line is a great price and many masks in the collection work wonders on your skin (honorable mentions include the Green Tea Mask and the Pomegranate Sheet Mask). This hydrating sheet mask feels great on the skin, smells like a bouquet of roses, and leaves your skin plump and hydrated.
Fresh Rose Face Mask– This ultra-hydrating mask has real rose petals inside. This is a luxury face mask that seems to lock in the moisture in your skin. Make sure to not apply too much as it can become sticky and you do not really need to use an excessive amount of this one, a thin layer will do.
Combination: Sometimes you notice dry patches on your skin, but somehow your forehead and nose are oily at the same time? Fortunately, there are tons of detoxifying masks and mattifying masks that will balance and tone your skin.
Peter Thomas Roth's Rose Stem Cell Bio Repair Gel Mask– This is a miracle product. I recommend this mask to all my friends because it simultaneously tones your skin and makes is so soft and velvety to the touch. Peter Thomas Roth has many other masks but for combination skin this is one will likely fix or treat at least one of your skin issues.
Dr Jart+ Bright Lover Rubber Mask– The brightening effects of this mask are unreal. It is a two-step mask so you know it must be good. After applying the serum, you put the sheet mask on and off you go. Give it anywhere from 15-40 minutes to work its magic depending on your skin's needs. This is a 20-minute fix for dullness and sallow looking skin.