The Downfall of the Office Dress Code
Ever since I can remember, I looked forward to graduating from college. My plan was to get a job, upgrade my wardrobe, and show up to work every day looking like a boss.
That vision included some type of blazer, pencil skirt, and a pair of powerful stilettos. Fast forward 15 years and my vision of a boss couldn't be any more different.
It's now more common than ever to see jeans, sneakers, and t-shirts in office settings. Thanks to millennials' liberal, free, and open-minded spirit, the focus has transitioned from one's professional look into their productivity, work quality, and dedication to the job.
Of course, certain professions still require a "professional" attire, however, a big part of the workforce has moved on from old-school policies. While there are both negative and positive views on the topic, one thing's for sure, casual work attire is here to stay.
As a millennial and personal stylist, I can argue on both sides of the fence. I believe that our clothes send a message about ourselves. They speak about us before we even open our mouths. I also think that we don't have to abide by a one-size-fits-all dress code that was probably created decades ago. Luckily, we can always create happy mediums.
Here are some tips to make the new office dress code work for you.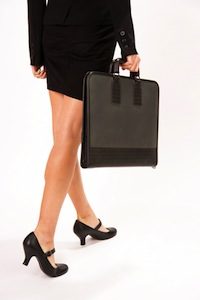 Discover your style
There's nothing more powerful than dressing for your personality, values, and lifestyle. By taking the time to discover your style and dress for your specific needs, you'll find yourself wearing items that you feel like your true self in. You'll find yourself presenting yourself with more confidence and authority. Take the first steps by downloading my free worksheet.
Go from casual to casual chic
Footwear is one of the most instrumental parts of an outfit. Instead of sliding into some flip-flops to the office, consider something just as comfortable but more put-together. Slip-on mules are one of the trendiest shoes of the season. They're comfortable, go with everything, and look oh, so stylish.
Find a balance
While your favorite band tee and cutoffs aren't the most professional pieces to wear at an office, there are certainly different ways to wear each item and still look presentable. Pair your band tee with a chic pencil skirt for a professional-chic outfit. If you're adamant about wearing shorts, pair them with a cute blouse and powerful blazer. It's all about balance.