If you've been following along on SmartFem.com since 2013, you might remember an article or two by me, Elizabeth Leon. An ASU student at the time, SmartFem was my first internship, my first writing platform, and my very first home away from home. Since then, I've grown older, wiser, and braver. All experiences which have led me back to SmartFem four years later – as a startup.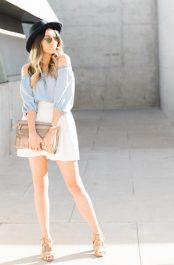 As a Public Relations major, I thought my dream job was some boutique PR firm where I could grow into an account executive with major clients and an even bigger title. Those dreams quickly changed when I took on my first full-time job out of college. Unhappy, dissatisfied, and lost, I found myself crushed and looking for answers.
After taking a few months off to spend quality time with my daughter, I landed a job at a local non-profit organization. There, I spend a little over a year working with entrepreneurs and small business owners. While the work was rewarding, I was losing myself and identity in the middle of my busy schedules.
I found myself back to the drawing board.
This time, after months of soul-searching, passion hunting, and self-discovery, I decided that the only title that would actually fulfill me was 'CEO'. That's right – I launched my own business.
Yes, it was a huge risk, a scary leap, and a bold decision, but the right one nevertheless. As a lifelong thrifter, fashionista, and creator, I decided that becoming a personal stylist was exactly what my professional life was missing. As a personal stylist, I help women discover their style, clear the clutter, and build wardrobes that help them elevate their life, confidence, and daily habits.
Along with helping women with their fashion needs, I also run my blog on www.exclusivelyego.com. There, women can learn more about style, thrift store shopping, and becoming the best version of themselves. That's why it was a no-brainer when Lea asked me to join SmartFem as a contributor, focusing on sustainable fashion, thrift store shopping tips, and all things confidence and style.
I'm grateful, honored, and humbled to be back at SmartFem. I'm eager to share with all of you how sustainable fashion has affected my life, and how it can have a positive effect on yours as well.