Sean Dowdell of Club Tattoo Talks Business
I recently caught up with Sean Dowdell, founder of Club Tattoo and had the chance to read his new book Tattooed Millionaire: Building the Club Tattoo Empire. This is fun, fast, must-read for entrepreneurs.  I read his book in two days. It is an inspirational autobiography of Sean Dowdell.  This book will appeal to audiences who enjoy the rock and roll lifestyle, tattoos, piercings but also small business owners and entrepreneurs.
Sean Dowdell grew up in a lower middle class family in Phoenix, Arizona and as a result he worked at restaurants to help contribute to the family. He later shares his love of music and how he was part of a band called Grey Daze with his friend, Chester Bennington of Linkin Park.  Dowdell had some successes in the music industry, but found a love for tattoos and piercings and opted to pursue it.  His work ethic and perseverance helped him create a multi-million dollar company which had never been done in the tattoo industry.
Tattooed Millionaire is an authentic business book and while he shares his successes, he also shares his failures.  He endured many obstacles on his quest to be the best.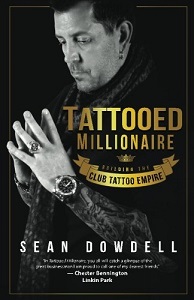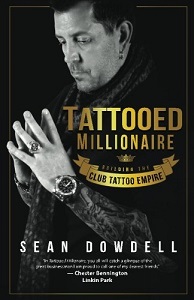 As a small business owner myself,  I could relate to most of the stories he shared.  One of the things that I really enjoyed about this book is that Sean cares about his friends and the people he writes about.  He writes about his friendships with his band mates and despite the break up he still maintains connections.  In fact, Chester Bennington is his business partner for several Club Tattoo locations.  Sean also talks about his wife and business partner Thora and how they had to learn to work together.
In today's changing world it was refreshing to see that Sean still believes in creating a great experience for his customers and his employees. He is a brilliant businessman and has amazing relationship skills.  It is easy to see his passion and his commitment to not only his clients, but his friends.