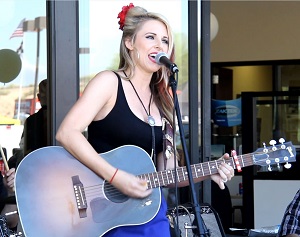 Phoenix's 9th Annual Jeep Jamboree was hosted this past Saturday on October 11th by Scottsdale Airpark Jeep on Frank LLoyd Wright Boulevard in North Scottsdale. There were over 700 Jeep enthusiast who attended the event. There was something for everyone…bands, BBQ food, activities for the children but it clearly meant something else. Phoenix's own Tommy Ash Band was rocking the event with live performances of "traditional and new country" music.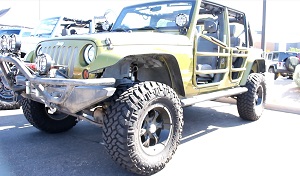 People from all walks of life and all over the country came together to experience a sense of comradery and to share the off road trails, the fun and to make new friends. There were Jeeps and Jeep owners of every kind and of every decade represented. What was interesting for me was the wide array of people who attended the event, as they were young, old, gangsta, executives and I even met a captain for US Airways. They all shared a passion for the traditional american off road vehicle.
It was interesting to observe the sub-culture Jeep owners seem to have watching the love of Jeeps bring them together. Laughing and chatting and exchanging numbers and pictures. Many of them rode into the parking lot with the music blaring, everything from heavy metal, country, rock, hip hop and even some blues.  One of the things that really impressed me was the strong brand loyalty Jeep seems to inspire. Many of the people I met have owned multiple Jeeps and keep them forever. Perhaps if everyone on the planet owned a Jeep we could achieve world peace!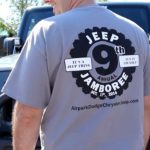 My oldest son has two Jeeps and is an accomplished auto mechanic who works in South Dakota and I asked him why Jeep, his response was pretty much the same as everyone else's; "They are rugged and I can take them anywhere. Parts are inexpensive and they are easy to work on."
Airpark Dodge Chrysler Jeep regularly contributes to and supports local charities so the 9th Annual Jeep Jamboree was no different. Entrance for this amazing event was paid by making a donation to the Arizona Humane Society or Airpark's Pay it Forward Foundation.  Not a bad deal for a can of dog or cat food! Airpark General Manager Coye Pointer was also there to answer questions about the Jamboree.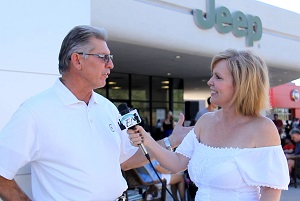 As a young woman first learning to drive I had always wanted a Jeep CJ series (CJ is the "Civilian Jeep" version of the original 1941 military Jeep and now known as the Wrangler) and someday I may yet get one. It's apparent when you buy a Jeep you get so much more than just a vehicle, you get a lifetime of experience and have the opportunity to become a part of a really special culture. Next year's Jeep Jamboree will almost certainly be even bigger. I guess "it's a Jeep thing."