The first thing to ask, of course, is "what are fortified wines?" Nine people out of ten couldn't tell you that Port, Sherry and Marsala share this special category. But fortified wines are really wonderful, and just a little information will enable you to use and enjoy them (and look really smart in front of your wine geek friends).
1-"Fortified Wines" started life as ordinary red or white wine, but at some stage in the fermentation process they received a dose of neutral grape spirits. This addition stopped the fermentation process in its tracks, producing a wine that is higher in alcohol (up to 20% alcohol) and often naturally sweet. Sounds good, right? And in fact, they can be very good. But for what?
PORT:
2-Port is a fortified wine made in Portugal (hence the name), and is usually served as a dessert wine. It comes in two styles, Tawny Port and Ruby (or Vintage Character) Port. While both are rich and sweet, here's the difference:
3- Tawny Ports have spent most of their life aging in wooden barrels, so they're brownish in color with wonderful caramel-y, nutty flavors. They are KILLER with Pecan Pie, Creme Brulee, and other creamy/caramel-y desserts. Tawny is also great for sipping by the fireplace on a cold winter night. Prices go from about $14 for basic Tawny to $20 for Reserve Tawny or $30 and up for 10-Year, 20-Year and 30-Year Aged Tawny's. The oldest ones are hard to find and will cost you a car payment, but are a truly sublime tasting experience.
4- Ruby style ports have a sweet-black-cherry flavor profile, and are to-die-for with anything chocolate. Serve a Death by Chocolate dessert with
LBV (Late Bottled Vintage) Port and you will think you've died and gone to heaven. Basic Ruby starts at $15-ish, but LBV Port is the best value — it's deep, dark and delicious at around $25. True Vintage Port goes for close to $100, but beware: they are made for aging and won't be enjoyable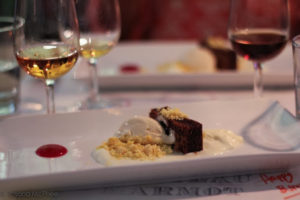 until they've had a decade or two of cellar time.
5- There are many great Port houses. Old Reliables include Warre's, Fonseca and Taylor-Fladgate.

SHERRY:
6-Sherry is a fortified wine made in Jerez, Spain and comes in a mind-numbing array of styles. But unless you're a Sommelier you need to know only a few:
7- Cream Sherry is sweet Sherry, and is probably what your grandmother used to sip in the evening. Harvey's Bristol Cream is the best known sweet sherry, but there are many good brands in the $15 – $20 range.
8 – Dry Sherry is a wonderful sipping or food-pairing wine – remember Frasier and Miles Crane sipping Sherry before dinner? Try it with Spanish olives and Marcona almonds, or pair it with shellfish. And if a recipe calls for Sherry, assume they mean the dry version. Dry Sack is a well-known brand, and anything from Lustau is very good.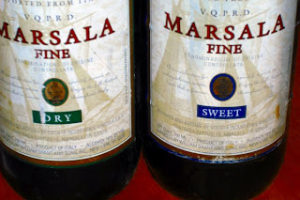 MARSALA:
9- Marsala is a very tasty fortified wine made on the island of Sicily, and while we think of it as a wine for cooking, it is a wonderful sipper as well. Like Sherry, there is Dry and Sweet Marsala. Most chefs use Dry Marsala in their recipes (think almonds and minerals), but I like the rich vanilla/caramel flavor of Sweet Marsala, and if I do say so myself, I make a killer Marsala Sauce. 🙂 And you can take sliced mushrooms or caramelized onions up a notch by sautéing them with a splash (OK, a big splash) of Marsala. Florio is my preferred brand.
10- And here's a big caveat — All of these wines can be found in a version labelled "Cooking (Insert wine here)." But STEP AWAY FROM THE "COOKING WINE!" These are cheap wines loaded with added salt and then heated, and they will only ruin the flavor of your food. If you have any of this stuff in your cupboard, pour it down the drain immediately and go buy the real thing. Remember that because of its fortification, the real wine will retain its flavor long after it's been opened, so it's well worth the price.
And that's all you need to know to explore the brave new world of Fortified Wine. Start sipping, start cooking, and enjoy!