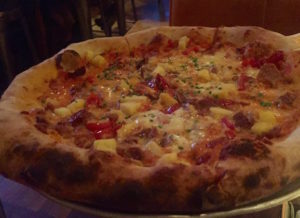 Tired of the same old same old? Well, Federal Pizza is your not-so-average pizza joint! Federal Pizza is apart of the Upward Projects family, a restaurant company focused on creating spaces for patrons to create memories. With its exposed kitchen, subway tile covered walls, and modern bar this sleek contemporary Central Phoenix restaurant has an atmosphere unlike most. Whether you're looking to dine-in, take out, or drive-thru, Federal is the place for you.
Yes, you read that right, drive-thru! Federal Pizza's drive thru option is only one factor that sets it apart from other restaurants; take a look at the menu, make a phone call, and pull up to the window to receive your order. It is that simple, the full menu is available for order, even the alcoholic beverages!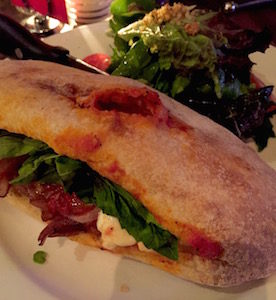 Federal Pizza has a full menu filled with appetizers, pastas, salads, sandwiches,
and of course gourmet pizzas. The menu outlines what the chef's recommended beer pairing for each pizza is. The restaurant's seasonal craft beer is paired with the Chef's Whim pizza, if you are feeling ambitious and adventurous go ahead and order the off the menu specialty dish for a delicious surprise.
The jam packed menu adds some difficulty when choosing your meal but you simply cannot go wrong with any item. The Meatball Sandwich is a personal favorite, as well as, the Pineapple Express Pizza and the Tiramisu for dessert.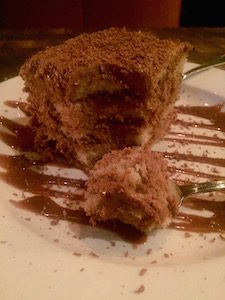 Everything has its own unique twist to classic pizzeria favorites.
In addition to the menu's specialty items, Federal has a variety of combination specials. 7 days a week you can get any ½ pizza and salad of your choice for $10.50 from 11a.m.- 4p.m.
Mondays & Tuesdays from 8p.m.-11p.m. you can get one pizza and house bottle of wine or two pitchers of beer for just 20 bucks!
Daytime or evening, this modern pizzeria is vibin' out; an indie alternative music selection is the perfect backdrop for this eclectic space. Federal Pizza has an ambiance that is hard to beat, a menu that has something for everyone, and a sense of community created by its authentic and passionate staff. If you haven't been, move Federal Pizza to the top of your to-do list!