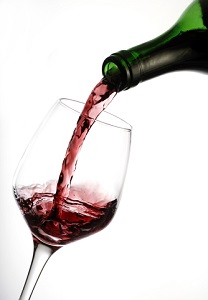 Valentines Day doesn't have to be all about candy and flowers. The way to a man's (or woman's) heart may be through a great bottle of wine. After all, what's more romantic than a bottle of wine and two glasses? Add candlelight, and you've hit a Valentines home run.
It's easy to pick something that will suit any palate, or any partner. If you want to "go pink" for the occasion, choose an elegant Brut Rose sparkling wine. These bubblies are crisp and fresh but not sweet, with delicate berry flavors and a beautiful pink color.  Serve it ice cold with some fresh strawberries on the side (or better yet, some chocolate-covered strawberries), and you'll both be in love. A good choice at a good price is Gruet Brut Rose, made in New Mexico and priced around $15.
Choosing a bottle for a white wine lover can be trickier, thanks to the almost dizzying array of styles and flavors available. But you can satisfy any palate with an Unoaked Chardonnay. Made from a traditional variety but in a non-traditional way, these steel-barrel-aged Chards offer rich fruit notes with a crisp, clean finish. Mer Soleil Silver is a great choice at around $20.
If sweet wine is your thing (or your Valentine's thing), go for a dessert wine. There are many choices available, from inexpensive Late Harvest wines to $50-and-up Ice Wines. You can't go wrong with a good Moscato, such as Marchese d'Elsa Moscato d'Asti, a naturally sweet white from northern Italy that tastes like peaches and honey. It's a great value at around $12, and if you add a luscious dessert, like Creme Brûlée or cheesecake, you'll be in Valentine's Day heaven.
For those of us who like our wines red and dry, there's nothing better than a good Cabernet Sauvignon. And guess what? Cab goes great with chocolate! Look for a Napa Cabernet in the $25 to $50 range to give you the deep, dark fruit and long finish that you and your significant other can linger over. Chappellet Signature Cabernet Sauvignon, at just over $50, is a great pick. For an elegant add-on, go with some gourmet chocolate-dipped cherries or blueberries.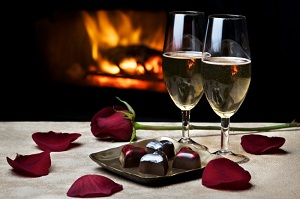 And what if you're on a budget? You can look to countries such as Spain, Argentina or Chile for great values. Try Malbec, the signature grape of Argentina, for a red wine with good body and concentration and a smooth finish. Alamos Mendoza Malbec is a great choice at about $9, and you can give it to your Valentine with just a single long-stemmed rose, for a spectacular presentation.
When it comes right down to it, you can't go wrong when you're sharing something you love, with someone you love. Just pop the cork, and enjoy!