Ford Makes New Crib To Mimic Car Rides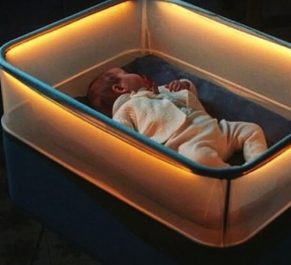 Move over BabyBjörn, Ford is on its way to take over the crib game.
That's right, Ford Motor Company is working on a baby crib that is every parent's dream, lulling babies back to sleep by mimicking a car ride.
The crib, called the Max Motor Dreams, is a rectangular crib that mimics the motions of Ford's C-Max cars. The motor replicates the gentle and soothing motions of the vehicle, the age-old motion that tends to help babies fall asleep.
The crib's perimeter has LED lights which emulate headlights of cars passing by during a night drive, and settings can be customized using the crib's smartphone app via any smartphone device.
Customizations include playing engine sounds or choosing a type of car ride that tends to be favored above the rest. The crib even emulates gentle vibrations.
Currently, the crib is in the prototype phase and not available for purchase. Initially, the crib was made as part of an ad campaign for Ford's new line of cars called Max, but due to heightened interest in the crib Ford is considering manufacturing it.
The crib used for the campaign was raffled off to one lucky winner, but perhaps we will see a new line of cribs hit the market in the near future.
No word on how much the Max Motor Dreams crib will retail for, but to give interested consumers an idea, a crib called the Snoo was built and manufactured that has similar characteristics as Ford's invention.
Deemed the safest baby crib ever made, the Snoo swings or bounces and plays white noise sounds to help emulate the time spent in the womb.
It even responds to a baby's cries and adjusts the speed of the motion to help calm them back to sleep.
The Snoo is made by HappiestBaby and retails for just under $1,200 dollars.