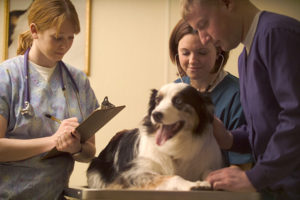 I remember when my darling dog ate an "indestructible" rubber toy when she was months old, and spent a week passing the toy under the supervision of myself and a vet. Luckily the toy was non toxic, but that didn't make the process any less terrible for her, or myself.
It's wonderful moments like my little story that send you, your pet, and your wallet unexpectedly to the vet, and affordable veterinary care for my pet is a highly valued option for me when just walking in the door is a guaranteed $50 dollars out of my pocket.
Vaccines, Heartworm, microchipping, these all can cost a pretty penny, and that's without factoring in any emergencies or random sickness.
I had heard about open vet clinics held in Scottsdale at tack and feed stores and decided to check one out when my pup was due for a handful of vaccines. I was so thrilled with the service and prices that I had to share with all our SmartFem pet owners some information about these low-cost vet clinic options.
SmartFem's founder Lea Woodford shared this place with me and takes her own dog Abby here. Compiled of a full veterinary staff, they see both felines and canines and offer great prices on vaccine packages. They also test for Heartworm and administer Heartworm preventative. They spay, neuter, and microchip as well. The only service they do not offer are walk-in exams. They accept appointments and also have clinic hours for vaccines.
I have attended their open vet clinic at the Scottsdale location on Shea and Scottsdale Rd. There wasn't a long wait, the staff was organized and I was in and out within 20 minutes. They also offer vaccine packages, which I purchased, and Heartworm. I also opted for a stool test because my little girl likes to eat fruit that has dropped from the trees in my parents' orchard. Naturally, getting her tested for worms usually has to happen once a year or so. My only thumbs down is they don't keep their clinic days and hours up to date on their company website, so the best way to go is calling the location that is most convenient for you and asking for their clinic day and hours.
One point made on their website is Pet Club's vet clinic provides services for preventative care, and offers medications to care of your pet. The clinic also provides services such as vaccinations, flea and tick treatment, diagnostics, Heartworm, and microchipping. Their prices or package options were not listed, nor where the clinic days and hours, but this could vary depending on location. Pet Club also offers self service dog washing, grooming services, dog training and pet adoptions.
There you have it fellow pet owners! Hopefully these three locations offer some help in providing your pet with the care they deserve while staying within your own budget. As we all know vet costs can sky-rocket pretty quickly, and having a clinic you can go to for services or questions can be convenient and affordable.