South Dakota…Great Places, Great Faces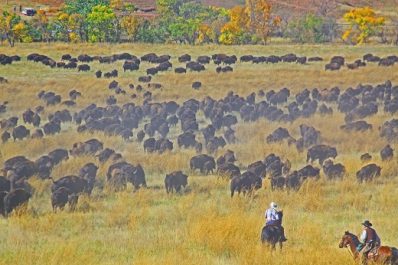 Visiting the Black Hills area of southwest South Dakota is like discovering treasure after treasure in grandma's attic. Without a doubt, it's a destination unto itself.  The lush evergreen mountains of Black Hills National Forest and lunar-like landscape of Badlands National Park are only 90 miles apart.   In between, there's a wealth of Native American & Western history, geological wonders, great wildlife parks, and some of the nicest people you'll ever meet.
Summer is the prime time to visit the area; however, if you'd like to miss the hubbub of the summer tourist season, the area has a lot to offer at any time of year.
Visit the last weekend in September when thousands of bison thunder through Custer State Park during the Annual Buffalo Roundup. www.travelsouthdakota.com/Buffalo-Roundup This event draws people from around the world, and you'll realize why when you see, hear, and smell these 2,000 lb tatanka's (Sioux word for buffalo meaning big or large thing) stampeding nearly 35 miles an hour through the park. Colorful leaves peak during the first two weeks of October and the Needles Highway scenic drive and Iron Mountain Road are at their most beautiful with cozy cabins and hotel rooms more plentiful.
With an average 150 inches of snow annually, the Black Hills rank in the top three snowmobiling destinations in the U.S.  Resorts at Terry Peak and Deer Mountain offer exclusive snowboarding terrain as well as 7,000-foot elevation ski trails.
Frankly, it's hard to beat springtime in the region when Mother Nature awakens from her winter slumber and Custer State Park comes alive with the burgeoning energy of newborn buffalo calves.  Custer Park and adjoining Wind Cave National Park are home to the largest concentration of American free-range bison in the world.
Driving the park's 18-mile Wildlife Loop Road or taking a backcountry jeep tour offers close encounters with many four-legged inhabitants including the popular prairie dogs. You may even have a wild donkey poke its head into your car looking for a handout. Although the critters are prolific and seem friendly, beware… animals in the park are wild and need to be treated with caution and respect. Buffalo look cumbersome, but they can be dangerous and are extremely fast.
Rapid City & the Black Hills Area
"Rapid" as it's known by the locals is a central point for your own tour of discovery. "Rapid" sprang up to supply miners with gear and rations on their way to the gold fields. To get an orientation to the region, visit The Journey Museum on New York Street. It's a rather small museum, but it's packed with interesting exhibits from pre-history, to the days of the dinosaurs that roamed the area, to the heyday of the original Native American inhabitants, and more recent history as the pioneers headed westward after the Civil War. There's an especially rich Plains Indians area that focuses on the history of the Ghost Dance Era and the time of Sitting Bull.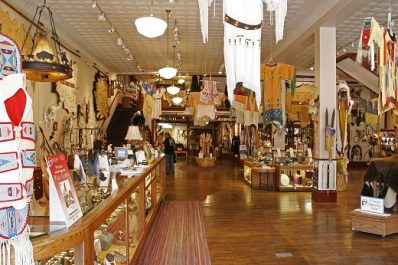 Set aside time to visit Prairie Edge Trading Co. & Gallery on 6th & Main Streets. Elaborately beaded buckskin clothes, drums, weapons and other artifacts in the window will lure you through the door. Inside, this museum-quality warehouse is filled with Plains Indian arts & crafts, books, gift items, jewelry, Italian glass beads and crafter's supplies.  Native American pieces sold here must be culturally and historically correct in design and materials so it's not surprising that many items from the store found their way into the movie Dances with Wolves.
Just outside of town, stop at Reptile Gardens.  Don't let the tacky, exposé-style exterior of the building put you off. This well-cared-for and clean attraction has the largest reptile population in the world and more deadly snakes than any other zoo. The snake handlers put on a particularly interesting demonstration with a King Cobra and Diamondback Rattlesnake. If Komodo Dragons or the "Death Row" snakes are not your fancy, visit the jungle "Safari Room" jam-packed with orchids, tropical plants, harmless snakes, and birds. The animal handlers for the live crocodile and alligator shows put Crocodile Dundee to shame.
From Reptile Gardens it's about ½ hour down the road to Mt. Rushmore where the 60-foot granite faces of George, Tom, Teddy, and Abe gaze eternally over the Black Hills. The Visitor Center Museum is impressive and the Presidential Trail (a walking path to the base of the mountain) and the Grandview Terrace offering spectacular views of the monument.
Head northwest for an eye-popping drive through the magnificent Black Hills to the National Historic Landmark of Deadwood, a town founded for the gold in its hills. Take time to stroll down Main St. and put a few quarters in slots at one of the many casinos. Pan for gold at Broken Boot Gold Mine and visit Mt. Moriah Cemetery where Wild Bill Hickok and Calamity Jane are buried. There's lots of controversy surrounding these two legends of the Wild West and I'll leave it up to you to discover what's fact and what's fiction.
South to Crazy Horse Memorial & Environs
Heading south just 17 miles from Mt. Rushmore, make a stop at Crazy Horse Memorial … the largest sculptural undertaking ever.  Crazy Horse started in 1948 and is a work in progress that most likely will not be finished in our lifetime.  When completed, this carved in-the-round granite sculpture will measure 563 feet high (almost 10 times higher than Mt. Rushmore!) and 641 feet long (two football fields back to back!), making it the largest sculpture in the world and on a scale with the Egyptian pyramids. The horse's head alone will be 22 stories high!  There's plenty to see here including the Indian Museum of North America and the Native American Educational and Cultural Center housing a collection of historic portraits of Native Americans by photographer Edward S. Curtis.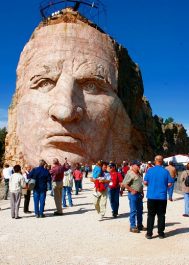 Other sites worth visiting in the vicinity are Hot Springs & Mammoth Site, Black Hills Wild Horse Sanctuary, Jewel Cave National Monument and world-famous Wall Drugs. It's easy to create your very own circle tour of the region and you'll find that once you've visited, you'll want to return time and time again, for there's so much to do and so many unexpected treasures waiting around each bend in the road.
www.custerstatepark.info  – Custer State Park
www.travelsd.com – State Travel & Tourism Site
www.nps.gov/moru – Mt. Rushmore National Park
www.crazyhorse.org – Crazy Horse Memorial
www.nps.gov/badl/ – Badlands National Park