This particular article has been personally emotional to me because my past life flashed before my eyes recently at an event I attended on the evening of February 22, 2014.
I was immediately moved to take action and pursue becoming actively involved with this fabulous organization. On this special evening I was one of nine invited guests at the National Bank of Arizona's reserved table for the premier charity event of the season, the 18th annual Fresh Start Fashion Gala.
Fresh Start Women's Foundation is also known as "The Gates of Hope". They assisted 5,000 women in the community in 2013 and more than 200,000 women since opening their doors in 1992.
More than 650 guests wore a mix of black tie tuxedos, black suits, evening gowns, cocktail dresses, stilettos, strappy sandals, kitten heels, flats, coiffed hair, luxurious jewelry, manicured nails, professionally applied makeup and false eyelashes.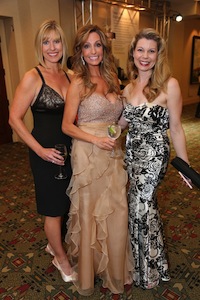 The event kicked off with cocktails and hors d'oeuvres in the foyer of one of the ballrooms at the Arizona Biltmore Resort. This being my first Fresh Start Fashion Gala, I observed the beautifully attired ladies and handsomely dressed gentlemen, my date being one of them, from a quiet spot. Once acclimated I felt very comfortable as I have attended numerous cosmetic and fragrance industry black tie events, years past, in New York City at the Waldorf Astoria, The Plaza Hotel, The Ritz-Carlton, etc…
The lights were dimmed and cocktail hour was called to a close. We were asked to gather in an adjoining room where a fashion show was about to begin. There were hundreds of translucent chairs, some having reserved name seating signs…they were lined up in numerous rows on each side, parallel to the white laminate runway, just like you see during New York City fashion week.
I had the privilege, as well as good fortune, of sitting next to an original and present Board of Director's member, Marlene Klotz-Collins, for the Fresh Start Women's Foundation. Marlene was lovely, as well as gracious; she was kind enough to point out a spattering of the most influential individuals in the room and their contributions to the foundation.
The lights were dimmed, Ann Siner and Tess Loo, the gala committee co-chairs stepped out on the runway and began speaking about Pat Petznick and Beverly Stewart, the co-founders of Fresh Start, discussing their generous and tireless contributions to the foundation. Ann and Tess also discussed their joint involvement through their entity, My Sister's Closet. They thanked Saks Fifth Avenue and the 2014 Etro spring collection for their contributions to the evening's event, with that being said the fashion show commenced.
The spring summer 2014 collection consisted of flowing silk and soft knit woven garments in royal blue, yellow and sandy shade base colors. The garments were fun, flowing and flirty. Some were bohemian chic with a sassy edge. Capri pants, tiered silk blouses, pencil skirts, dresses, short sleeved knit shells with matching knit skirts…all the garments were exquisite. Accessories were minimal…shoulder strap handbags with stamped cutouts, embellished with metal rivets. Flat metal gold tone Romanesque style waist belts accented many of the garments. Some of the ensembles had matching beaded scarfs as accent pieces. The models wore strappy sandal stilettos, which were ideal for the fluid garments.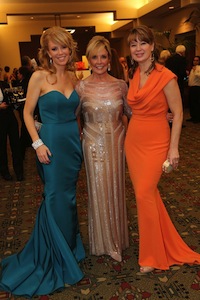 The fashion show came to an end and the crowd merged into the ballroom for dinner, dancing and special guest speeches. The Founder's Award recipients, Anne Mariucci and Kathy Munro took center stage to address the audience and accept their individual awards. Then Jim, Lisa and Helen Fitzpatrick took the stage.
Jim began speaking about a courageous woman, his sister, Carol, who had endured emotional, verbal and physical domestic abuse. This is where my life flashed before my eyes, as I too had been a victim of domestic abuse many years ago. I was fortunate to have received assistance by an organization similar to Fresh Start before my abusive domestic situation escalated to the point of being too late. Jim then spoke about his brother, Tom and his niece, Audra. His two siblings and niece were in the wrong place at the wrong time and unfortunately were viciously murdered by Carol's estranged husband.
Ladies please know that if you are in need of guidance, assistance and safety for yourself, as well as your children, there is available help.  The Fresh Start Women's Foundation is a wonderful resource that assists those in need to lift themselves up when they have been beaten down physically, verbally or emotionally.
I'm proud to say that I will be assisting this organization in the very near future. The evening of February 22, 2014 raised $1,170,000.00 in gross revenue through the underwriting of the dinner, paired with the evening's sponsorships and donations, table sales, live auction and top-notch raffle. That revenue will go directly to funding the programs and services that Fresh Start provides, ensuring that they will continue with their mission of empowering women to transform their lives through encouragement and education. If you or anyone you know is in need of assistance, please do not hesitate to reach out to Fresh Start for their expert guidance and counseling.
Annette L. Loertscher, image consultant phone: 480-292-0297 fax: 480-214-3067 www.alltransformations.com annette@alltransformations.com