Creamistry is a specialty ice cream shop that has found its new home in the Old Town Scottsdale Waterfront. Creamistry's main concept is blending ice cream and science, specifically chemistry, to create unusual sweet treats and they do so with liquid Nitrogen. Nitrogen is lucky #7 on the periodic table and in its gaseous form it has supreme freezing properties.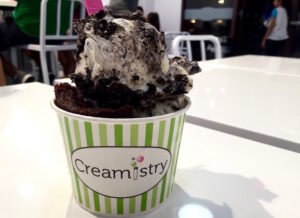 When looking at the menu it is easy to become overwhelmed but by breaking down the process it is a lot easier to determine what delicious dessert you want to indulge in. Begin by choosing a base, base options include Signature Premium which is an indulgent choice and the creamiest of the bases. Also there is an Organic base which is Non-GMO and Kosher, a Dairy-free water-based Sorbet, and lastly non-dairy, vegan Coconut. Once a base is selected you choose your ice cream flavor. Flavors range from anything such as cereals to cookies & cakes, fruit and nut flavors, to the classics like chocolate, vanilla, mint, and caramel. Toppings are available at an extra charge for customization, as well as waffle chocolate and brownie bowls. Once all mixed up in liquid form, the customized mixture is placed in a mixer and flashed with liquid nitrogen. This immediately freezes it into an icy, delicious concoction.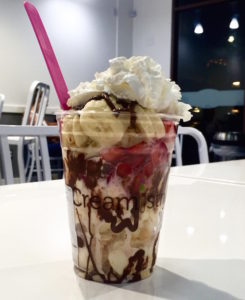 The combined 70+ flavor and topping choices ensure that no two treats are alike, every sweet treat that is created at Creamistry is individually unique and specifically for you. The open arrangement allows you to observe the freezing process through a glass barrier and then enjoy your ice cream while watching other creations come to life!
This new addition to Arizona will be opening more locations throughout the year including one in North Scottsdale's Scottsdale Quarter and one location opening July 11th in the Uptown Plaza of Central Phoenix next to Lou Malnati's pizzeria.
Creamistry is the place where you can let your inner sweet tooth and scientist run wild. This creative concept makes dessert interactive and informative, not to mention delicious!