I am always elated when I find a new beauty regime that not only works, but doesn't break the bank either.  I recently decided to try micro-needling at the suggestion of a friend of mine.  This is something I have known about for a while but I wasn't too sure about it, as there are a few different methods of this procedure. Micro-needling is collagen induction therapy which includes non surgical skin tightening that creates controlled injury underneath the skin's surface, therefore causing the body to create new tissue layers of elastic and collagen fibers.
I went to the Face Place in the Biltmore area and met with esthetician Donna Scelza who explained to me that they use the Derma Pen and not the Derma roller.  She explained that the Derma Pen can be controlled and the needles are only used once, whereas the Derma rollers are used multiple times and the depth cannot be controlled.  I believe it is important to have a skilled technician who can control such things.  I have also heard that the derma rollers can dull occasionally, and they aren't as sanitary since they are used more than once.
My experience was a relaxing one as I was pleasantly greeted by Augustina and Donna of the Face Place in the Biltmore area.  After Donna explained everything to me and cleansed my face, she then began to derma plane my face which she said would maximize the results of my micro-needling   Derma planning removes the outer most layers of dead skin cells and fine vellus hair.
After my face had been prepped, a numbing cream was applied to my face for several minutes. Donna then carefully removed the numbing cream and began the procedure. She applied the facial serums and they absorbed into the microscopic little punctures.  There was absolutely no pain or discomfort as she worked on my fine lines and a surgical scar on my right check.  Micro-needling has been extremely beneficial for people who suffer with acne scars, I don't have any of those but I was pleasantly surprised with the minimization of my surgical scar.  After she finished the procedure she loaded me up with a fabulous post care package, something that I know most places don't do.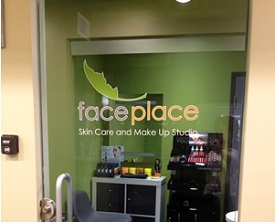 I was a little red and swollen that night, but woke up in the morning the find my face a little pink but very hydrated and supple.  The fine lines around my eyes and lips were noticeably softer.  This procedure stimulates your body's own production of collagen so I will continue to see improvement in the upcoming months.  Micro-needling needs to be spaced out for six weeks but you can bet that I will be going in again as I want to keep the momentum.
This was a really fabulous experience and the prices are so reasonable, especially since they do so much prep work to maximize your benefits.  In addition, the post care kit was so nice. I am usually given some instructions and told to go buy some Arnica.
To find out how you too can get pampered check out their website at www.faceplaceaz.com