Done Spring Cleaning? Here's Where to Donate Your Unused Clothing
Spring is finally here, and with its nice weather, longer days, and blooming flowers also come spring cleaning. It seems like no matter how well we clean the previous year, spring cleaning always unveils countless unused, unwanted, and dated clothing that take up space in our home.
It's time to donate and give those unwanted treasures a new home. Below are four places across the country where you can drop off your unused clothing for a good cause.
Church/Charity
Did you know many local churches accept donations? In addition to the work they do within the church and with their members, many churches also do great work in the community. Your donations can help anyone from a church member to an underserved person living in a third world county.
Contact your local church or charity for more information on donating and its impact.
Homeless Shelters
While the main goal of a homeless shelter is to provide a safe place for someone in need, many also accept donations. Whether they're for their guest's use or to help raise money to put back into their programs, your donations can go a long way.
Keep in mind that not all shelters accept donations and they can vary by location. Do your research and contact the shelter before making the drive.
Dress for Success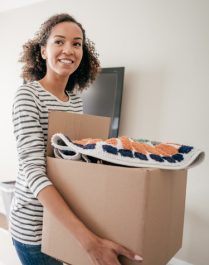 If you're hoping to get your professional garments in the hands of women in the job market, then Dress for Success is the perfect place. Not only does the national non-profit help dress women in job-ready outfits, but it also offers resources like resume building, interview prep, and more.
Goodwill
One of the easiest and most convenient places to donate your unused goods is at your local Goodwill. The non-profit is a great option if you're looking for a one-stop-shop to drop off all your donations. They take almost everything, which means less work for you. They also offer home pick up for bigger items.
Goodwill's around the country are doing amazing work in helping fight unemployment and sustainability issues. Both critical issues that affect our present and future, so your donations would make a great impact in the community.