Travelers Guide through the Ancient Riviera Maya & Playa del Carmen, Mexico
As winter rounds the corner, perhaps you're starting to plan a warm-weather getaway? If so, you might want to consider the Riviera Maya.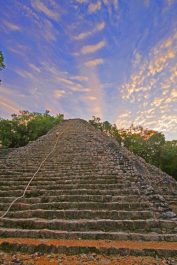 There's good daily air service to Cancun from most major cities and once you've landed, it's just a short jaunt to Playa del Carmen and beyond that, the resorts of the Riviera Maya.
A thriving safe city, Playa del Carmen was originally a Maya trading center…it was re-envisioned in the late 1930s and today is a bustling vibrant city. For those of you seeking a city atmosphere, we recommend the Condo Hotels Playa del Carmen in the heart of the city's premier zone. You're just around the corner from 5th Avenue shops, restaurants and nightlife. Although they offer nice pools, you're also just a short walk to the beaches.
The east coast of the Yucatan peninsula of Mexico, along the Caribbean Sea, is home to many significant early Maya ruins as well as a vast variety of today's luxurious resorts and other accommodations. You'll have no trouble finding a place to suit your interests and your budget.
If your interests lead you to an expansive, all-inclusive vacation, you might want to consider the Grand Velas Riviera Maya. It's a five star all inclusive all-suite resort that compares well with the finest resorts we've ever seen. It's been ranked second best resort in Mexico and 38th overall, worldwide.
Notice the use of the word Maya and not Mayan. MAYAN is the language and all other references to the area are MAYA.
Tourism help from outer space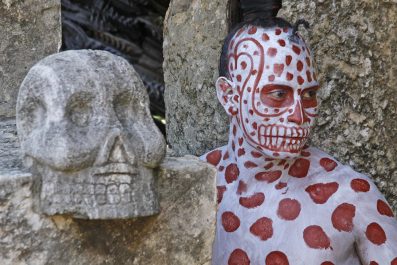 Some 65 million years ago, a giant asteroid fell to earth and struck the Yucatan Peninsula. Over time, rain filled the crater and nearby basins. Cenotes were created from freshwater sinkholes formed as the limestone bedrock caved in and filled with water from underground rivers. Originally used in Maya ceremonies, today these unique geologic cave features have great recreational appeal. That accounts for the various water-oriented nature parks scattered through the area. Cenotes can be traversed by kayaks, floating and snorkeling, and in the case of the dry caves…simply by walking.
You can connect natural history and recreation by visiting a few of the natural theme parks in the region. Actually, though we might tend to call them theme parks, they offer a wealth of outdoor activities. To us the largest and most interesting is Xcaret.
Here you can spend an entire day and evening zip lining through the jungle trees, kayaking, floating through the cenotes, visiting lots of indigenous birds and animals in their natural habitat, have a stingray encounter, or even do a sea trek in a small lagoon complete with oxygen helmets. Admission to Xcaret is all inclusive including food and drink. At the end of the day, there's a Tlacho "Xcaret  Mexico Espectacular in a large entertainment pavilion. The show, which includes dinner, features the history of Mexico and the Mayas with a cast of over 300 performers.
Other parks close by are Aktun Chen which has both dry and wet cenotes and a large unique system of zip lines and suspended bridges in the overhead canopy.  Then there's Xplor which features 14 overhead zip lines that stretch for nearly two and a half miles. Here, you can drive your own amphibious vehicle on a 6.2-mile course through the jungle and into the dry cenotes. If you enjoy the underground slow moving clear water rivers, you can float on a stalactite river trip.
Discovering the ancient Maya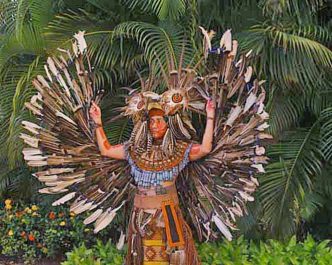 Two of the more significant Maya ruins are each less than 50 miles from Playa del Carmen.
Not to be missed is the ancient Maya city of Tulum situated on the coast of the Caribbean Sea. The site known as a walled city thrived during the period of 1000 and 1500 AD. Tulum has been wonderfully excavated and it's easy to imagine yourself alive in this city during its peak. It's exceedingly safe and friendly and the food is wonderful and more continental than what you'd expect to find in a Mexican restaurant.
The less visited Coba is also less restored. It is so vast that walking from ruin to ruin is pretty much out of the question. Most folks option to rent a bicycle or hire a two-person bicycle cabbie piloted by courteous local youths.
In its heyday, Coba spread out for 44 miles, an early urban sprawl; it flourished from about 300 AD to 1000 AD and was, at its height, home to some 50,000 inhabitants. It's always a good idea to pre-read some history before you travel to the sites of the ancient world. To that end, we recommend the book, "Playa del Carmen, Tulum & the Riviera Maya-A Great Destination."