Healthier Ways To Indulge In Holiday Food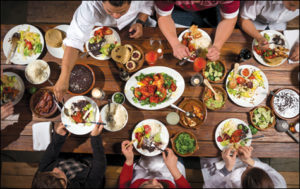 The holiday season is upon us, and that means gathering around a table filled with family, friends, laughter, and recipes that have been passed down from generation to generation.
However delicious they might be, some of our favorite holiday foods use ingredients or cooking techniques that may not be as healthy as we like, and eating these dishes doesn't always make our body feel at its best.
Here are a few ingredients or food-choice-tips you can substitute to make family recipes healthier to enjoy while promoting optimum health during the holiday season.
Potatoes are a nutrient-rich comfort food, but most people have traditionally used white potatoes. However, a healthier choice when preparing a potato dish would be to consider using sweet or purple sweet potatoes in place of white potatoes. Sweet potatoes are delicious and high in fiber and beta-carotene.
For a healthy stuffing, try making one with organic sprouted rice or wild rice, and using sprouted organic bread in place of the white, refined bread. Then, bake your stuffing in a separate dish instead of cooking it inside the turkey where it can absorb a high amount of saturated fat from the meat. Also, use vegetable broth in place of chicken broth. Following both of these alternative steps also allows vegetarian or vegan diners to be able to enjoy the stuffing as well.
When preparing a turkey or other type of meat try using a little orange juice and coconut oil to add moisture, and bake the meat instead of frying it. If you are baking, frying or sautéing anything, use pure organic coconut oil or avocado oil in place of lard, vegetable oil or a trans-fat oil like Crisco. Avocado and coconut oil handle heat well and have fantastic health benefits.
For dessert, try making a healthy version of pumpkin pie. You can make a whole sprouted grain crust yourself, or you can find a whole grain ready-made crust at the store. Serve coconut milk whipped cream for the topping.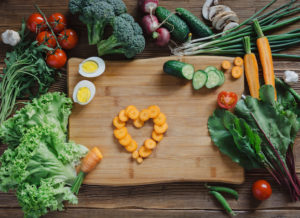 When making or serving snacks, try an easy dip option such as a healthy high-protein hummus or nutritious guacamole. Slicing some cucumber, red bell pepper and celery to use as the dipping chips is also a great choice! If you want to serve crackers or chips, opt for whole grain or organic sweet potato chips or crackers.
With these ingredient substitutions you can still eat all the delicious food you love while enjoying a number of health benefits.
Nancy Addison is a certified health counselor, certified in plant-based nutrition, certified raw food chef, certified in Health-Supportive Cooking, and certified in Mediterranean Cooking. Nancy has written award-winning books on health, nutrition and cooking. You can reach her on her website, Organic Healthy Life, or find more easy, healthy recipes in Nancy's books, using her universal author link for amazon: Author.to/nancyaddison