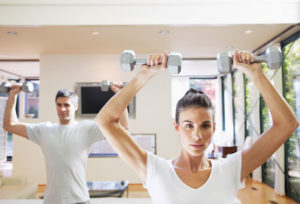 Wahoo, it's summer time! Time to let loose and have some fun in the sun right? Although this hot and sunny weather is great for lounging by the pool or relaxing indoors, it makes it 10 times harder to feel motivated to exercise! I believe we have it the worst in Arizona, as we battle temperatures ranging from 100 to 120 degrees daily. In this body melting heat, how are people supposed to stay active? Never fear my friends, because posted below are different summer exercise methods you can follow to help you keep that summer body and beat the heat!
Get to the Gym
This is the more obvious suggestion of the bunch, but it really is the most straight forward thing to do. If you have a gym membership, or have been wanting one, then head on over to your nearest fitness facility. These places are always air-conditioned and filled with exercise tools and machines you can use to stay in shape. I don't know about you, but it takes a village to get me motivated to exercise. Thus, being around so many other motivated people is a sure fire way for me to keeping my summer bod in check. Plus, if your gym has a cafe, you can always grab a healthy smoothie to help you beat the heat as you head back home after your workout.
Kill it in the Pool
Some people either don't like the gym, don't have time for the gym, or can't always afford to have a gym membership. Well, if you happen to have a pool or know someone that is willing to let you use their's, then getting your aquatics on can be one of the best summer exercises out there! People constantly underestimate the difficulty of water exercises. Yet, according to an article on experiencelife.com, "Water workouts can provide demanding full-body exercise. Since water provides resistance from all vectors and angles, exercising in it can be more challenging than working out on dry land." Personally, I think water workouts are the best during the summer because you are killing two birds with one stone. You get to cool off from the heat, and build muscle and burn calories. Just remember to lather on the sun screen and stay hydrated!
Use What You Have At Home
If the gym and the pool aren't an option for you, then use what's available to you around the house to stay fit. For example, if you have stairs, you can run them up and down in sets to get that perfect leg workout. What my mother and I do from time to time, when we really don't feel like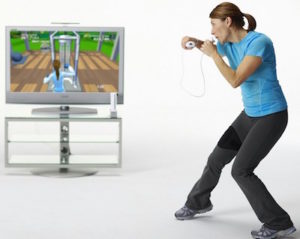 leaving the house, is that we will turn on some music and shadow box in our basement. I've even seem some people substitute canned food for hand weights when working out at home. The possibilities are truly endless if you have the motivation and get creative.
Leave it to the Technology
Last but certainly not least, you can let your technology help you figure out some summer exercise methods to do from home! If avoiding the summer heat is your main worry, but you also want to feel like you're getting that gym-worthy workout, the internet can provide workout videos for you! Youtube alone is laden with workout videos for all parts of the body, that range anywhere from 10 minutes to an hour or more long. Even gamers have a chance to get into shape at home. There are games like Wii Fit, Just Dance, and even the old school Dance Dance Revolution that are great for cardio and other types of workouts.
Even though everything else seems to be melting here in the valley of the sun, don't let your motivation to stay fit and healthy melt away with this summer heat. Just follow these summer exercise methods and no longer worry about letting the heat get the best of you!