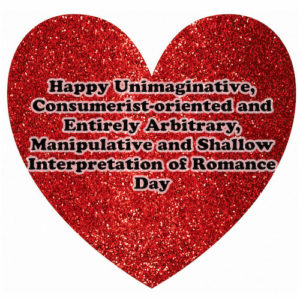 It's around that time of year again where people start getting excited, getting nervous, or they just get annoyed as the days pass by. People know Valentine's Day is coming, and coming fast. Now that New Year's has ended, it has become a countdown to V-Day.
Stores now have shelves stocked with cards, candy, stuffed animals, and flowers; and jewelry stores have their special heart-shaped pieces or matching couple's jewelry on the shelves. Just this week alone I have watched my friends, men and women, run around looking for Valentine's Day gifts for their significant others. I've seen people put aside paychecks and even request days off for this holiday.
All this has just never made sense to me. Valentine's Day, in my opinion, has been blown so out of proportion that it is now a monstrosity. Don't get me wrong, there is something just so romantic about devoting an entire day to showering your significant other in love… but also something so bizarre about it. Why only one day? And why does that day have to specifically be February 14th when you shower your lover in affection?
Like every holiday out there, Valentine's Day stemmed from a historical occurrence, this I know. According to History.com, back in the ancient Roman times, there was an annual fertility festival called Lupercalia that was celebrated in February. As Christianity became more popular, the basis of Lupercalia was used to create a new Christian holiday celebrating St. Valentine. It was believed that back in the 5th century, there was a priest, Valentine, who was beheaded in ancient Rome for marrying couples in secret when the emperor had forbidden marriage. After his death, the Pope at the time declared February 14th as the day to honor the good-hearted priest. However, it wasn't until the 1300s that the holiday became mainly associated with love and romance. From then on it began to grow and blossom, picking up quite the popularity in England before catching on in the United States.
If you think about Valentine's Day from a historical standpoint, it is beautiful. It symbolizes the sacrifices people are willing to make for love, and it showcases the way love always prevails. It wasn't until all the material goods were added into the holiday that it became so monstrous and commercial. This holiday has become overrated because of the negativity that comes along with it. Single people worry about being alone on V-day, couples obsess over the gifts they want, people frantically run around looking for a valentine, and some way or another, even with all the love, people get their feelings hurt. The Valentine's Day we know today, although it has remanences of beauty, is covered in childish expectations, obsessiveness, and greed.
What I've come to realize over the years is that Valentines Day is a wonderful holiday for its celebratory purposes. It can be joyful, sweet, and
romantic for those involved. However, when it comes to the authentic human emotion behind it, I've concluded that showing your true love for another person should not only be confined to one "special" day a year, nor should you have to buy an extravagant gift to show the worth of your
love.
What do you think about Valentine's Day? Is it a holiday you love or loathe? Let me know in the comments below, and I wish the best of luck to you this February 14th!